Stats, Facts and Papers
---
Space Foundation Index Performance for First Quarter 2014
Written by: developer
The first quarter of 2014 saw a cooldown in the explosive rate of market growth from 2013. However, the Space Foundation Infrastructure Index and the Space Foundation Index still turned in respectable growth of 7.27 percent and 4.94 percent, respectively. On the other hand, the Space Foundation Services Index, the NASDAQ Composite, and the S&P 500 Index were all nearly flat for the quarter as can be seen in Exhibit 1.

Key movers in the first quarter of 2014:
The mobile satellite services sector outperformed all space sectors as both Globalstar (up 51.4 percent) and Iridium (up 20.1 percent) were the top two companies tracked during the quarter.
Orbital grew almost 20 percent and ATK by 16.7 percent in the first quarter to lead all space segment infrastructure companies in the run-up to the announcement at the end of April that these companies intend to merge.
Garmin and Trimble turned in robust growth of 19.6 percent and 12.9 percent respectively as the GPS segment performed well overall.
More than a third of the companies in the indexes turned in growth in the 4-9 percent range.
DigitalGlobe turned in the worst performance for the quarter, losing 29.3 percent of its market capitalization as investors sold off shares after disappointing 2014 revenue guidance coupled with an announced acquisition of Spatial Energy, a company that provides energy-related Earth observation services.
Intelsat was down almost 17 percent as it announced a dividend and received an analyst downgrade during the quarter.
Loral lost 12.7 percent as the company advances plans to sell itself or its Telesat subsidiary from which it derives most of its revenues.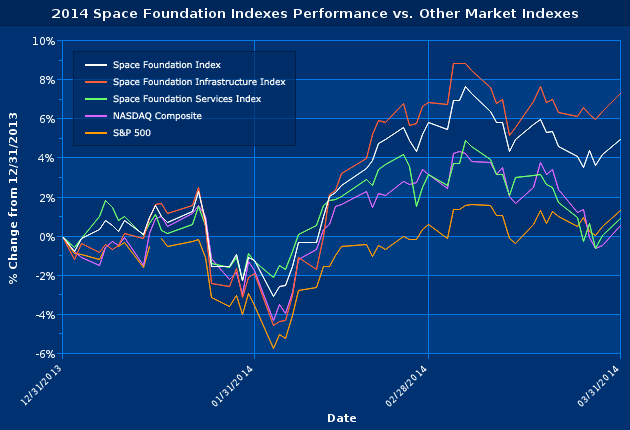 This article is part of Space Watch: June 2014 (Volume: 13, Issue: 6).
---
Posted in Stats, Facts and Papers