Stats, Facts and Papers
---
The Space Report 2014 is Now Available; Provides Definitive Perspective on the 2013 Global Space Industry
Written by: developer
The global space economy grew to $314.17 billion in commercial revenue and government budgets in 2013, reflecting growth of 4 percent from the 2012 total of $302.22 billion. Commercial activity — space products and services and commercial infrastructure — drove much of this increase. From 2008 through 2013, the total has grown by 27 percent.
Commercial space products and services revenue increased 7 percent since 2012, and commercial infrastructure and support industries increased by 4.6 percent.
Government spending decreased by 1.7 percent in 2013, although changes varied significantly from country to country. Substantial space budget cuts in the United States outweighed gains in Canada, India, Russia, South Korea, and the United Kingdom, all of which increased budgets by 25 percent or more.
These new global space economic numbers come from the Space Foundation's publication, The Space Report 2014: The Authoritative Guide to Global Space Activity, which was released May 19. Data was compiled from original research and a wide variety of public and private sources, and analyzed by Space Foundation researchers.
The Space Report Key Findings
The 160-page book contains worldwide space facts and figures and is illustrated with photographs, charts and graphs. Within are myriad examples of the benefits of space exploration and utilization, the challenges facing the space sector, the opportunities for future growth and the major factors that shape the industry. In addition, The Space Report includes an overview of each sector, easy-to-understand definitions and up-to-date information on space infrastructure, facilities, launches and programs.
Following are just some of the many interesting facts and analyses found in The Space Report 2014: The Authoritative Guide to Global Space Activity:
Launches and satellites
81 launch attempts took place in 2013, an increase of 4 percent from the 78 launches in 2012 (and above the five-year average of 79 launches per year).
The majority of these launches were conducted by Russia (32 launches), the United States (19), China (15), and Europe (7).
After two years of conducting fewer launches than China, the United States rose again to second place, partly due to an increased operational tempo as U.S. commercial providers launched cargo resupply missions to the International Space Station.
New launch vehicles made their first flights (or first successful flights) in five countries — the Antares and Minotaur V in the United States, Soyuz 2.1v in Russia, Kuaizhou in China, Epsilon in Japan, and KSLV-1 (also called Naro-1) in Korea.
The number of satellites launched during 2013 increased by nearly two-thirds compared to 2012. This was largely due to a significant uptick in the number of satellites with masses below 91 kilograms (200 pounds). These microsatellites constituted more than half of the 197 satellites launched in 2013.
Many of the microsatellites were short-lived technology demonstrations, but there is a considerable degree of interest in future possibilities for constellations of small satellites that provide valuable services on an ongoing basis.
Workforce
According to U.S. Bureau of Labor Statistics (BLS) data, the size of the U.S. space workforce declined for the sixth year in a row, dropping 3.5 percent, from 242,724 in 2011 to 234,173 in 2012 (the most recent full year for which data is available) – a decrease of about 8,500 workers. However, the changes varied by sector, with some portions of the space industry growing while others contracted.
The United States' National Aeronautics and Space Administration (NASA)'s civil servant workforce remained essentially flat, declining by less than 1 percent to reach 18,068 in FY 2014. Although the workforce continues to become more concentrated at higher ages, NASA has experienced moderate success in recruiting and retaining young workers below the age of 35 during the past five years.
Both Europe and Japan saw increases in space workforces; the European industry workforce grew by 1.5 percent in 2012, adding approximately 500 employees; in Japan, the overall workforce grew by 11 percent, while employment at the Japan Aerospace Exploration Agency (JAXA), Japan's government space agency, dropped.
The Space Foundation Index
As of December 2013, the Space Foundation Index was 94.22 percent above its value at inception in June 2005. The Space Foundation Infrastructure Index outperformed the S&P 500 and the NASDAQ during 2013, while the main Space Foundation Index and Space Foundation Services Index did not perform as well as the NASDAQ, but substantially better than the S&P 500. These indexes, which are updated daily on the Space Foundation website, are easy-to-understand mechanisms for gauging the financial performance of space industry companies listed on U.S. stock exchanges.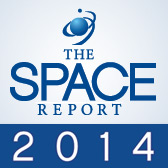 About the Book
The Space Report is published annually by the Space Foundation, which works with a leading aerospace consulting firm, Futron Corporation, to research and analyze government and industry trends in space activity. The stock market analysis is provided by ISDR Consulting, LLC, a management consulting firm specializing in the space, satellite and technology sectors.
The Space Report 2014 is on Sale Now
The Space Report is the definitive body of information about the global space industry. It is a valuable resource for government and business leaders, educators, financial analysts, students and space-related businesses.
The report can be purchased – in print or as a downloadable PDF – for $399. Purchases can be made online at www.TheSpaceReport.org.
Multi-user licenses for businesses and schools, academic pricing and discounted previous editions of The Space Report are also available via online purchase.
This article is part of Space Watch: June 2014 (Volume: 13, Issue: 6).
---
Posted in Stats, Facts and Papers