Space Foundation News
---
Space Can Solve Energy Issues
Written by: developer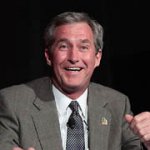 Energy from space is an interesting concept that was explored during a concurrent panel on Wednesday afternoon, April 18, at the 28th National Space Symposium. The Energy and Engineering from Space: Powering the Grid and Markets of the Future panel looked at how space and energy can intersect for a better world. Key panelist points included:
Moderator Dr. Ronald M. Sega, vice president and enterprise executive for energy and the environment, Colorado State University and The Ohio State University: We must combine energy, cyber and aerospace, using a systems engineering approach, to develop a true secure smart grid. The Rocky Mountain Secure Smart Grid Initiative will serve as a test bed for demonstration purposes.
Gen. Victor E. (Gene) Renuart, USAF, Ret., president, The Renuart Group, LLC: September 11 events had a profound effect on the way we view energy and transportation in the U.S. and the Aug 14, 2003, interruption of power in eight U.S. states and Ontario had an equally large impact on our views on energy. Reliable and secure energy is a significant national security issue; in a crisis, nobody cares about who "should have been" paying attention. There are still difficulties regarding jurisdiction of various agencies in ensuring infrastructure security.
Harold Sanborn, technical manager, Smart Power Infrastructure Demonstration for Energy Reliability and Security (SPIDERS) Joint Capability Technology Demonstration (JCTD): A partnership between the Department of Defense and the Department of Energy focuses on "mission assurance based on aerospace systems engineering." Cyber security is a key component of energy security, and SPIDERS is looking at bundling cyber, security and economic security to establish a secure, smart, "islanded" microgrid. This won't be easy because, even though we don't have to completely start over in creating a secure energy system, establishing energy grid security is like "applying a new jet engine to an airplane while you're flying the airplane."
David G. Dykes, federal segment manager, Georgia Power: Commercial energy suppliers have a number of mutual energy goals with the government, many with challenges. For example, the limited nature of intermittent renewable resources is a challenge when you need a consistent supply. Plus, protection against weather and natural disasters is a huge concern across the energy industry.
Paul P. Bollinger, Jr., director, government solutions, Boeing Energy: The International Space Station (ISS) is an example of a smart, secure microgrid that developed from aerospace engineering: it is a self-contained, secure power system. It's scalable; 100 percent reliable; fully powers environmental control and life support systems; has multiple alternative distributed energy sources and power storage; provides energy situational awareness; and has intelligent load management and secure command and control. But, of course, one of the big problems now regarding energy security is lack of funding. (Pictured)
See video here.
---
Posted in Space Foundation News