Space Foundation News
---
Students Enjoy Exhibit Center Tours
Written by: developer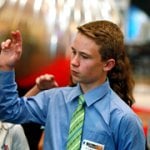 Although the National Space Symposium isn't generally open to the public, a few lucky groups of young people do get the privilege of touring the exhibits each year.
Two different types of tours for  8th through 12th graders were conducted in the Ball Aerospace Exhibit Center and Pavilion this year: school tours for students of Space Foundation Teacher Liaisons and a limited number of tours for youth groups such as Boy Scouts, civil Air Patrol and ROTC programs
Student Tours
On Thursday, April 19, approximately 350 students from the classes of Teacher Liaisons from 12 schools experienced the excitement of space as they visited specially designated "destination booths" representing a wide variety of aerospace companies and organizations. The involved Teacher Liaisons and their schools were:
Chrystal Bloeman, Webber Middle School, Ft. Collins
Cami DeBise, Jack Swigert Aerospace Academy, Colorado Springs
Robert Fowler, Tesla High School, Colorado Springs
Misty Garland, Wasson High School, Colorado Springs
Kellina Gilbreth, Cheyenne Mountain High School, Colorado Springs
Michelle Ginn, Falcon Virtual Academy, Colorado Springs
Mary Gregory, Lewis Palmer High School, Monument
Melissa Hornung, Palmer High School, Colorado Springs
Jill Parker, Elizabeth Middle School, Elizabeth
Jaclyn Roberson, Manitou Springs Middle School, Manitou Springs
Peter Stauffer, Home School Teacher, Colorado Springs
Susan Van't Hul, Cripple Creek High School, Cripple Creek
Destination booths included: Aerojet; The Aerospace Corporation; AMPAC In-Space Propulsion; Analytical Graphics, Inc.; ATK; Ball Aerospace & Technologies Corp.; The Boeing Company; Braxton Technologies; International Space University; Maui Economic Development Board, Inc.; Missile Defense Agency; Lockheed Martin; Northrop Grumman; Pratt & Whitney Rocketdyne; Raytheon; SES Government Solutions; Space Dynamics Laboratory; The SI Organization, Inc.; United States Air Force Academy; and Webster University.
Teacher Liaisons are extraordinary educators who use space-related education programs and principles in the classroom and act as advocates for space-based education in their schools and districts. If selected for the program, they receive Space Foundation training and resources to further integrate space into their classrooms – and those in the Rocky Mountain area are invited to bring their students to tour the National Space Symposium exhibit center; no other student groups are permitted to tour.
Youth Group Tours
In addition to the student tours, the Space Foundation can accommodate a small number youth group tours each year, on a first-com-first-served request basis. Each of these tours began with a brief overview of Soviet space artifacts that were on display at Kansas Cosmosphere & Space Center's exhibit.
See photos here.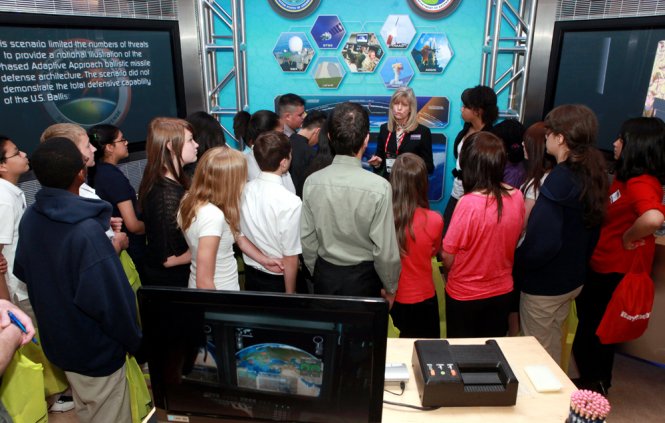 ---
Posted in Space Foundation News