Space Foundation News
---
Teacher Liaisons Meet at 28th National Space Symposium
Written by: developer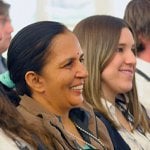 Each year, the Space Foundation invites our Teacher Liaisons to participate in a variety of activities at the annual National Space Symposium in Colorado Springs. This year, Teacher Liaison involvement included invitation to attend the Opening Ceremony on April 16, an educator professional development workshop in April 17, a field trip for experienced Teacher Liaisons on April 18, the opportunity to bring their secondary school students to tour the Ball Aerospace Exhibit Center and Pavilion on April 19, an invitation to attend the Mega Minds panel presentation, also on April 19 and a final wrap up "Connections" presentation on April 19. Pictured, left, participants included our first non-U.S. Teacher Liaison, Vandana Suryawanshi of Vidya Valley School in Maharashtra, India.
Sixty-nine Teacher Liaisons attended the workshop and heard presentations by: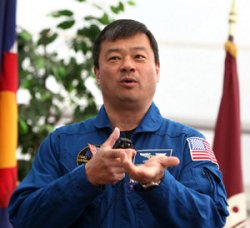 Leroy Chiao, Ph.D., special advisor-human spaceflight, Space Foundation, pictured, right
Kevin Cook, director-space awareness programs, Space Foundation
April Lanotte, Teacher Liaison and NASA Einstein Fellow
Dr. Neil DeGrasse Tyson, director of the Hayden Planetarium, best-selling author and host of COSMOS
Space Technology is Major Focus
Space technology and technologies derived from space research served as a major topic during the workshop and a series of grade-level-appropriate breakout sessions that included :
Elementary school: water purification, presented by Water Security Corporation
Middle school: web-based astronomy, presented by SLOOH
High school: Accelerometers, presented by the Space Foundation with supporting materials from Rex Gauge
Water Security Corporation and Rex Gauge are Space Foundation Space Certification partners and SLOOH is working with the Space Foundation to explore additional collaboration opportunities. An additional link to the Space Certification program was a presentation during the main workshop, when Play Attention, a feedback video game device used to help people with Attention Deficit Hyperactivity Disorder (ADHD), was demonstrated to the Teacher Liaisons. Read more here.
All the participants posed for photographs with Chiao and former NASA astronauts: Col. Michael T. Good, USAF, Ret.; Livingston L. Holder. Jr., and Capt. Michael J. McCulley, USN, Ret., and both Chiao and McCulley participated in an ceremony for teachers who had completed their first-year probationary period and were inducted as full-fledged Teacher Liaisons.
Field Trip Day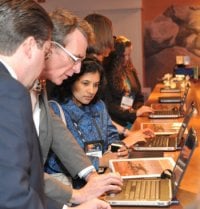 The Teacher Liaison field trip included two stops in Colorado Springs - the first at the Space Foundation Discovery Institute where Bill Nye the Science Guy® joined the tour and met with the teachers. Space Foundation staff demonstrated the Institute's Mars Yard and Robotics lab and the adjacent AGI Space Missions Simulator at the Space Foundation Discovery Institute. Pictured, left, Bill Nye joined the Teacher Liaison field trip to the Space Foundation Discovery Institute.  
For the second leg of their trip, the teachers traveled to the U.S. Air Force Academy where their tour included the Space Systems Research Center (SPARC), Center for Aircraft Structural Life Extension and the observatory.
Connections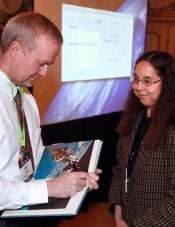 The Teacher Liaison Connections meeting, held on Thursday, April 19, was the final time the Teacher Liaisons met as a group at the Symposium. Roger Hunter, project manager, Kepler Mission, gave a fascinating presentation about the data collected from the Kepler space telescope to date. His presentation tied in with the Opening Ceremony award ceremony earlier in the week when the Kepler mission received the John L. "Jack" Swigert Award for Space Exploration during the Symposium's opening ceremony. Pictured, right, Roger Hunter signs an autograph for a Teacher Liaison.
Teacher Liaison Program
Now in its ninth year, the prestigious, nationally recognized Space Foundation Teacher Liaison program is for PreK-20 educators who inspire their students to pursue and excel in science, technology, engineering and math (STEM) by using space-related themes, programs and projects in the classroom. For information about becoming a Space Foundation Teacher Liaison, click here.
---
Posted in Space Foundation News