Space Foundation News
---
Space Foundation Congratulates SpaceX on Historic Docking With International Space Station
Written by: developer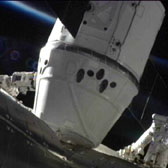 Space Foundation Corporate Member SpaceX celebrated two historic successes this week with Tuesday's launch of its Falcon 9 rocket from Cape Canaveral Air Force Station and Friday's docking of the Dragon spacecraft at the International Space Station (ISS).
The ISS Expedition 31 crew successfully captured the SpaceX Dragon capsule with the station's robotic arm at 9:56 a.m. EDT on May 25. The feat came three days, six hours, 11 minutes and 23 seconds after the mission's launch. The station was 251 miles over northwest Australia when capture occurred.
"This week, SpaceX not only successfully launched the first commercial space transportation vehicle to dock with the International Space Station, but also marked a place in history that will forever be remembered as the true commercialization of space — the pivotal moment when private industry replaced government to form the new space economy," said Space Foundation Senior Vice President — Strategic Partnerships Elizabeth Wagner. "We salute SpaceX for its groundbreaking accomplishment, and look forward to the innovation and space technology advancements this paradigm shift will enable."
SpaceX has a contract with NASA to fly 12 cargo delivery runs to the ISS over the coming years.
Pictured: the SpaceX Dragon berthed to the International Space Station's Harmony module (courtesy of NASA)
---
Posted in Space Foundation News