Space Foundation News
---
Space Foundation Special Advisor – Human Spaceflight Dr. Leroy Chiao Inspires Students
Written by: developer
Space Foundation Special Advisor – Human Spaceflight Dr. Leroy Chiao recently spoke to students at Barnard Elementary in Troy, Mich., about his experiences as a NASA astronaut. Principal Mary Haezebrouck wrote in a note of thanks to Chiao, "In my 35 years as an educator I have never attended an assembly that was the quality of the assembly you presented to our students. Not only did you share information, but you showed exciting footage that gave us all so much more insight in to what living in space entails."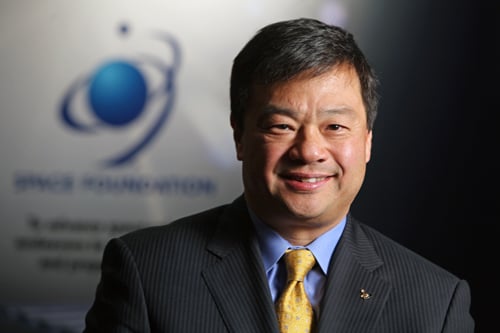 Chiao flew on three Space Shuttle flights, a Russian Soyuz flight and was the commander of International Space Station (ISS) Expedition 10, where he lived onboard the ISS from Oct. 13, 2004, to April 24, 2005.
Chiao grew up in Danville, Calif., and earned a Doctor of Philosophy degree in chemical engineering from the University of California at Santa Barbara. A native English speaker, he also speaks Mandarin Chinese and Russian.
His Space Shuttle missions include:
STS-92 Discovery, Oct. 11-24, 2000
STS-72 Endeavour, Jan. 11-20, 1996
STS-65 Columbia, July 8-23, 1994
In addition, he flew as Flight Engineer 1 aboard Soyuz TMA-5 to the ISS, where he served as commander and NASA science officer during Expedition 10. Chiao received the NASA Distinguished Service Medal in 2004.
Chiao joined the Space Foundation in January 2012. See more about Chiao here.
Pictured: Dr. Leory Chiao with students at  Barnard Elementary in Troy, Mich.
---
Posted in Space Foundation News