Partner News
---
Aerojet's LEO-7 Second Stage Rocket Motor Completes Successful Hot-Fire Test
Written by: developer

SACRAMENTO, Calif. (Aug. 23, 2012) – Aerojet, a GenCorp (NYSE: GY) company, announced today that its Low Earth Orbit (LEO)-7 second stage rocket motor successfully completed a hot-fire test at the Air Force Research Laboratory at Edwards Air Force Base in California.
Aerojet monitored the recent full-duration test in support of the Low Earth Orbiting Nanosatellite Integrated Defense Autonomous System program.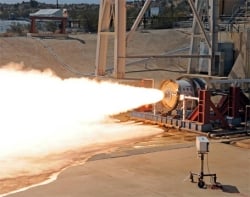 "This initial ground hot-fire test demonstrates the success of our motor development efforts enabling rapid, low-cost access to space," said John Napior, Aerojet director, Advanced Programs.
Three different LEO motors provide the axial propulsion for the Super Strypi launch vehicle. The vehicle's architecture enables small satellite launches at dramatically reduced costs. Following the fabrication and test of this first set of ground test motors, Aerojet will build a set of flight demonstration motors under contract from the Hawaii Space Flight Laboratory and Operationally Responsive Space office. The flight demonstration vehicle is planned to be launched from the Pacific Missile Range Facility on Kauai, Hawaii in the fall 2013 using a refurbished Scout rail launcher.
Aerojet's second stage LEO-7 motor carries approximately 7,000 lbs of solid rocket propellant and uses design features adapted from the company's collective commercial and government-sponsored solid rocket motor technology programs.
"The design attributes of the LEO-7 motor will serve applications in both small launch vehicles and strategic deterrence missile architectures," said Mark Kaufman, Aerojet executive director, Strategic Systems. "Additionally, the project is an exemplary demonstration of collaborative research efforts between industry and government in the pursuit of affordably sustaining our critical solid rocket motor industrial base."
Aerojet is a world-recognized aerospace and defense leader providing propulsion and energetics to the space, missile defense, strategic, tactical missile and armaments areas in support of domestic and international markets. GenCorp is a leading technology-based manufacturer of aerospace and defense products and systems with a real estate segment that includes activities related to the entitlement, sale, and leasing of the company's excess real estate assets. Additional information about Aerojet and GenCorp can be obtained by visiting the companies' websites at http://www.Aerojet.com and at www.GenCorp.com.
# # #
Contact:
Glenn Mahone, Aerojet, 202.302.9941
[email protected]
Kristin Conner, Aerojet, 916.355.2143
[email protected]
---
Posted in Partner News