Space Foundation Press Releases
---
World Space Week Events: Space Foundation Visitors Center to Open, Astronaut to Sign Autographs Oct. 9
Written by: developer

COLORADO SPRINGS, Colo. (Oct. 3, 2012) – Beginning on Oct. 9, the Space Foundation Visitors Center will be open to the public every Tuesday and Thursday and the first Saturday of each month from 10:00 a.m. to 5:00 p.m. To celebrate the first public day, former NASA astronaut and Space Foundation Special Advisor - Human Spaceflight Dr. Leroy Chiao will be at the Visitors Center signing autographs from 1:00-4:00 p.m
The Visitors Center, which comprises the Northrop Grumman Science Center and the El Pomar Space Gallery, features a dramatic Science On a Sphere® (SOS) and a special exhibit entitled Launch to the Moon that covers the U.S./Soviet race to the Moon and includes space suits, model rockets, Soviet lunar artifacts and a model Lunar Module.
The Space Foundation Visitors Center is located at 4425 Arrowswest Dr. (at the intersection of Arrowswest and Garden of the Gods a half mile east of 30th St.).
Admission is $5.00 for adults, $4.00 for seniors 65+ and students 18+ (with student ID) and $2.00 for children 4-17. Admission is free for children 3 and under and members of the military (with photo ID). Special rates are available for youth and school groups. Children must be accompanied by a responsible adult.
Complete information about the Visitors Center can be found at www.spacefoundation.org/visit.
The Visitors Center opening is one of many Space Foundation activities being held during World Space Week, Oct. 4-11. For more information, click here.
The Northrop Grumman Science Center and Science On a Sphere®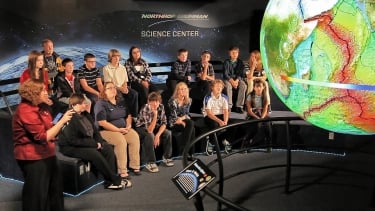 Science On a Sphere® (SOS), the centerpiece of the Northrop Grumman Science Center, was developed by the National Oceanic and Atmospheric Administration (NOAA). SOS uses special software, satellite imagery and four projectors to render images onto a spherical screen that provides dramatic, full-motion views of the Earth, Sun, moons and planets in space.
The subjects include real images of celestial bodies plus graphic depictions of ocean currents and temperatures, volcanic and tectonic activity, hurricanes and tsunamis, polar ice, air traffic patterns and a wide variety of natural and manmade phenomena.
For more information, click here.
Launch to the Moon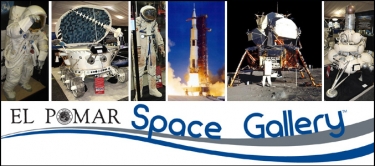 The El Pomar Space Gallery houses a sampling of the Space Foundation's extensive artifacts collection.
The initial exhibit, Launch to the Moon, chronicles the 1959-1973 United States and Soviet Union space race, with a focus on the goal to be the first to the Moon.
Over time, the Space Foundation plans to enlarge and expand the El Pomar Space Gallery to include even more fascinating space information and artifacts.
For more information, including descriptions of all the displays, click here.
About Leroy Chiao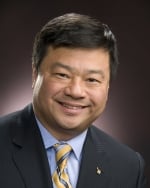 Educated as an engineer, former NASA astronaut Dr. Leroy Chiao works in business and academia and as a consultant and speaker. Chiao grew up in Danville, Calif., and earned a Doctor of Philosophy degree in chemical engineering from the University of California at Santa Barbara. A native English speaker, he also speaks Mandarin Chinese and Russian. He has flown three Space Shuttle missions: STS-92 Discovery, Oct. 11-24, 2000; STS-72 Endeavour, Jan. 11-20, 1996; and STS-65 Columbia, July 8-23, 1994. In addition, he flew as Flight Engineer 1 aboard Soyuz TMA-5 to the International Space Station (ISS), where he spent six months onboard as commander and NASA science officer for Expedition 10. Chiao received the NASA Distinguished Service Medal in 2004. After a 15-year career with NASA, he left in 2005 to work and consult on a number of projects. In 2009, he served as a member of the Review of United States Human Space Flight Plans Committee, and currently serves on the NASA Advisory Council and as the Space Foundation's special advisor - human spaceflight. He holds appointments at Rice University and the Baylor College of Medicine, and is involved in educational programs. An instrument-rated pilot, Chiao has logged over 2,900 flight hours in a variety of aircraft.
About the Space Foundation
About the Space Foundation
The foremost advocate for all sectors of the global space industry, the Space Foundation is developing the next generation of space professionals - and building the overall technological strength of the nation - through programs that stimulate students' STEM interest and skills. A non-profit organization founded in 1983, the Space Foundation supports its mission "to advance space-related endeavors to inspire, enable and propel humanity," through its education programs; space awareness programs, including Space Certification and the Space Technology Hall of Fame® industry events, including the National Space Symposium; research and analysis products, including The Space Report: The Authoritative Guide to Global Space Activity ; and government affairs activities; and programs for teachers and students.  Visit www.SpaceFoundation.org, follow the Space Foundation on Facebook, LinkedIn and Twitter, and subscribe to Space Watch.
# # #
---
Posted in Space Foundation Press Releases