Space Foundation Press Releases
---
Space Foundation Celebrates Grand Opening of Northrop Grumman Science Center
Written by: developer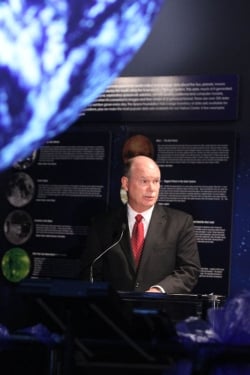 COLORADO SPRINGS, Colo. (Oct. 5, 2012) - Today the Space Foundation celebrates the grand opening of the Northrop Grumman Science Center, featuring Science On a Sphere® (SOS), the first major step in the development of the new Space Foundation Visitors Center at its world headquarters in Colorado Springs, Colo.
A private opening event was held this morning; the public opening of the Visitors Center will be Tuesday, Oct. 9, from 10 a.m. - 5 p.m. See Visitors Center hours and fees at www.spacefoundation.org/visit.
Northrop Grumman Donation
Northrop Grumman donated $375,000 to create the science center and teaching lab at the Space Foundation that is being used for science, technology, engineering and mathematics (STEM) education programs for teachers and students and for community education outreach efforts.
"The future of space exploration begins at facilities like the Northrop Grumman Science Center. The activities here will inspire and educate people of all ages and set some of them out on careers that will make their dreams of future space missions a reality," said Gary Ervin, corporate vice president and president of Northrop Grumman Aerospace Systems (pictured, above). "This Center will be a place where the community can come together to engage and educate young people and inspire America's future generations of engineers and scientists."
"The Space Foundation has long dreamed of creating a space where we can offer students and visitors an extraordinary educational experience. Northrop Grumman made it possible for us to do this very quickly and in a spectacular way," said Space Foundation Chief Executive Officer Elliot Pulham. "We are thrilled that, through this collaboration, we are offering teachers and students a compelling platform for STEM education and we are launching a new visitor destination in northwest Colorado Springs at time when the community needs it."
The centerpiece of the new Northrop Grumman Science Center, Science On a Sphere, is a dynamic spherical projection system that uses special software and satellite imagery to render dramatic, full motion views of the Earth, Sun, moons and planets.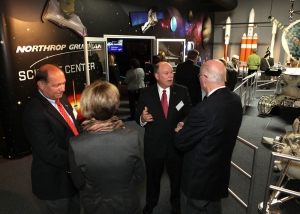 Developed by the National Oceanic and Atmospheric Administration (NOAA), SOS graphically illustrates complex science principles in a compelling and easy-to-understand format. The Space Foundation's SOS, which is one of only 87 in the world, has more than 350 unique datasets covering topics as diverse as satellite images of planets and moons, the paths of hurricanes and tsunamis, daily air traffic patterns, ocean currents and temperatures, plate tectonics and weather patterns.
Pictured, right, Northrop Grumman Sector Vice President & General Manager, Space Systems Jeff Grant, left, and Ervin, right, talk with guests Vivian and Peter Teets.
Wonders of the Universe
Shortly, the Space Foundation will launch Wonders of the Universe, a series of standards-based courses for PreK-12 students that feature Science On a Sphere as the primary teaching tool.
The Wonders of the Universe courses combine SOS demonstrations with lectures and hands-on activities and cover a wide variety of subjects, including STEM subjects as well as social studies, history and government and other classroom content areas. Developed by the Space Foundation's education department and taught by accredited Space Foundation instructors, the courses are undergoing final testing and evaluation and will soon be available for booking throughout the rest of the school year.
During September and early October, almost 350 students from 11 Colorado schools participated in sessions that were rigorously evaluated to ensure that the content meets state and national education standards and that teaching methods are effective. In addition, the teachers of the students attending the sessions had the opportunity to provide feedback.
The classes will be available to individual classroom teachers, school districts and other educational institutions, including public and private schools, colleges and universities offering education curriculum; and home school organizations. Lab fees are variable, depending upon the complexity of the program, location and number of students involved.
Photos Available
Reporters who would like photos of the official opening (click here to see the grand opening), of students in classes at the Northrop Grumman Science Center or of the SOS, may contact [email protected]. Pictured, right, El Pomar Foundation Chief Operating officer Dave Palenchar,left, Ervin, middle, and Pulham, right, cut thr ribbon, officially opening the Space Foundation Visitors Center, Northrop Grumman Science Center and El Pomar Space Gallery.
About the Space Foundation Visitors Center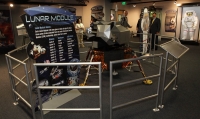 In addition to the Northrop Grumman Science Center, the Space Foundation Visitors Center also features the El Pomar Space Gallery, which houses a sampling of the Space Foundation's extensive artifacts collection. The initial exhibit, Launch to the Moon, primarily displays artifacts related to the U.S./Soviet race to the Moon in the 1960s and early 70s. For more information, visit www.spacefoundation.org/visit.
About Northrop Grumman
Northrop Grumman is a leading global security company providing innovative systems, products and solutions in aerospace, electronics, information systems, and technical services to government and commercial customers worldwide. See more at www.northropgrumman.com.
---
Posted in Space Foundation Press Releases