Partner News
---
Thuraya Launches the Mobile Satellite Industry's Fastest Handheld Hotspot
Written by: developer

GITEX 2012, DUBAI (Oct. 14, 2012) – Industry leading Mobile Satellite Services operator, Thuraya Telecommunications Company today announced the launch of its Thuraya XT-Hotspot product. Building upon the success of its Thuraya XT handheld, the industry's most popular and toughest satellite phone, Thuraya is introducing the XT-Hotspot, which is a pocket-size router that creates a Wi-Fi zone for multiple users to connect smartphones, laptops, and tablets to the internet over Thuraya's mobile satellite network. The XT-Hotspot is the only Wi-Fi router on the market offering a plug and play solution enabling easy and affordable internet access with the fastest satellite data speeds on a handheld of up to 60 kbps in the most remote of areas.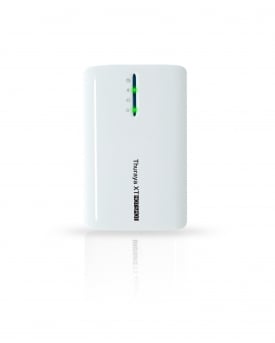 Thuraya's Vice President of Marketing, T. Sanford Jewett said "Thuraya is busy expanding our product line with innovative products to provide our users with convenient and practical mobile communication solutions. The XT-Hotspot is yet another example of Thuraya's commitment to delivering simple and cost-effective communication tools that enhance the value of our satellite services."
The XT-Hotspot uses the GmPRS connection of the Thuraya XT handset, which supports faster connection speeds of up to 60 kbps, as opposed to 9.6 kbps currently offered on the market. The router creates a Wi-Fi zone of up to 30 meters, where multiple users can simultaneously access the internet seamlessly from their laptops or smartphones. It is a compact battery-powered device ideal for users from diverse sectors including NGOs, Government, Energy and Media.
To learn more about Thuraya and our products and solutions including the Thuraya XT-Hotspot, please visit us at stand # Z-D10, Zabeel Hall at GITEX 2012 in Dubai from October 14-18.
About Thuraya Telecommunications Company (www.thuraya.com)
Thuraya Telecommunications Company is an industry leading MSS operator and a global telecommunication provider offering innovative communications solutions to a variety of sectors including energy, broadcast media, maritime, military and NGO.
Thuraya's superior network enables clear communications and uninterrupted coverage across two thirds of the globe by satellite and across the whole planet through its unique GSM roaming capabilities. The company's diverse range of technologically superior and highly reliable mobile satellite handsets and broadband devices provide ease of use, value, quality and efficiency.
Thuraya remains committed to serving humanity through delivering the essential tools for optimal connectivity, never leaving anyone out of reach.
# # #
Shereen Hanafi
Director of Communications
Thuraya
Tel: + 971-4-4488-888
Fax: +971-4-4488-899
Email: [email protected]
---
Posted in Partner News