Space Certification Program
---
Logic BodyWave Device Provides Control
Written by: developer
Controlling apps on your iPhone or Android via mind alone is now possible. Freer Logic's BodyWave® device provides control of apps on iPhone, Android or PC via the ebb and flow of brain activity. A small wristband controls the apps, making BodyWave truly unique.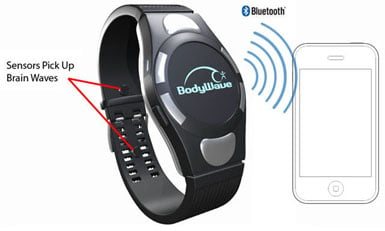 BodyWave uses Bluetooth technology to wirelessly transmit data to the phone or PC device. The wristwatch size device detects transmissions from the brain via three sensors that touch the skin, detecting patterns of attention, relaxations, stress/anxiety and peak brain performance.
BodyWave is currently used for NASA training to test supersonic flight simulations, as well as in the nuclear power industry, NASCAR, medical schools and Olympic teams.
BodyWave is a Space Foundation Certified Education Product. Learn more about Space Certification here.
To view BodyWave and pre-order the device, click here.
This article is part of Space Watch: December 2012 (Volume: 11, Issue: 12).
---
Posted in Space Certification Program