Space Certification Program
---
Space Foundation Names Eulaliaco LLC as Space Certification Program Partner
Written by: Space Foundation Editorial Team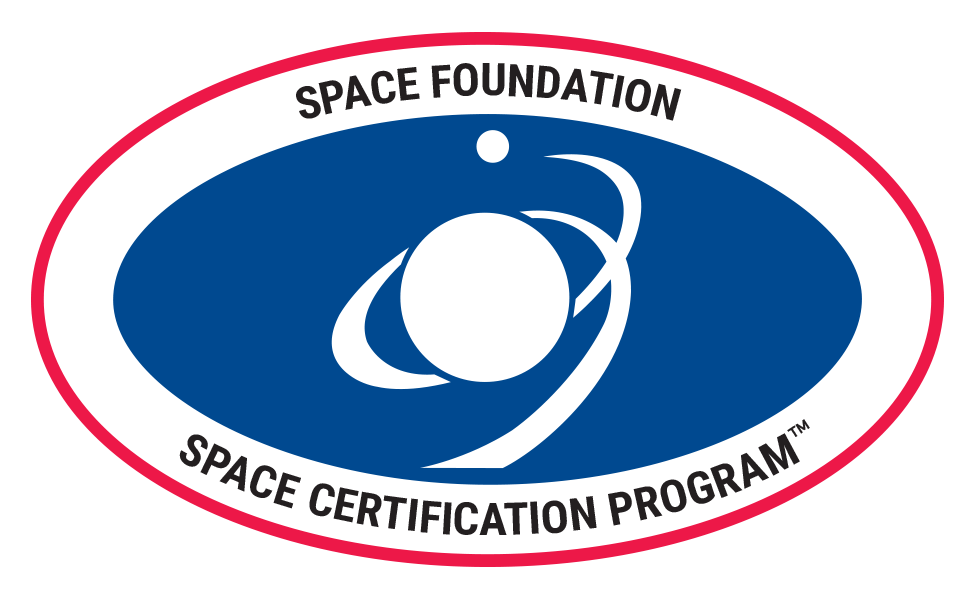 'Rocket Recorder' Music Workbook Provides Space-Themed Lessons for Children
Book incorporates space concepts and space-themed music into recorder lessons
Innovative approach to STEAM improves student engagement and music practice
Space themes generate student interest in the broader topic of space exploration
COLORADO SPRINGS, Colo. — March 17, 2021 — Space Foundation, a nonprofit advocate organization founded in 1983, today announced its latest Space Certification partnership with Eulaliaco LLC for "Rocket Recorder: Volume One," its space-themed music workbook for children.
The brainchild of music teacher Laurie Orth, the book incorporates space concepts and original space-themed music into elementary school recorder lessons. This innovative STEAM (science, technology, engineering, the arts and math) approach to music education has improved student engagement, leading to better practice and broadened conversation in the classroom.
The Space Certification Program awards a "seal of approval" to commercial companies that demonstrate products and services in technology, data, education and creative markets that originate from space technology and are a source of inspiration for discoveries and innovations in the global space ecosystem. Today, every community, infrastructure, and aspect of modern life is either profoundly dependent on or indirectly affected by space-related innovations.
"The arts and sciences must coexist today to create tomorrow's innovative workforce. Combining the contrasting disciplines of space exploration and music in my workbook 'Rocket Recorder' sent my music students on a musical space odyssey of epic proportions," said Orth. "I am thrilled to partner with Space Foundation through their Space Certification Program to share my book with music and STEM educators everywhere."
Launching 'Rocket Recorder'
Orth came up with the idea for the book during conversations with her son about spaceflight operations, and NASA's education website provided materials that helped her bring her idea to fruition. Since publishing the book, Orth has entered the orbit of STEAM conversations at various conferences, including the Space Center Houston's Space Exploration Educators (SEEC) conference, and with Space Foundation. "Rocket Recorder: Volume One" and Orth's associated YouTube lessons have demonstrated that the combination of the arts and science helps to develop creative minds.
Carah Barbarick, space awareness programs manager at Space Foundation, added, "Laurie Orth is a master educator. Through her thoughtful inclusion of space in her recorder lessons, she is inspiring the next generation to see the profound connection between the arts and space. Rocket Recorder will have a ripple effect in the space ecosystem."
Eulaliaco LLC is headquartered in Evans, Georgia. Learn more about Laurie Orth and "Rocket Recorder: Volume One" at www.laurieorth.com.
About Space Foundation
Space Foundation is a nonprofit advocate organization founded in 1983, offering a gateway to education, information and collaboration for space exploration and space-inspired industries that define the global space ecosystem. Driven by a partnership model, Space Foundation operates three divisions that unite the entire spectrum of stakeholders — business, government, education and local communities — through corporate membership, sponsorship, fundraising and grants. Center for Innovation and Education is a lifelong learning platform, offering workforce development and economic opportunity for students, teachers, entrepreneurs and professionals. Symposium 365 is the premier source for media and events, offering authoritative news and information and venues for networking and conducting business, including the world-renowned Space Symposium and The Space Report. Global Alliance facilitates collaboration around the world for open dialogues and joint programs. Visit Space Foundation at www.SpaceFoundation.org, and follow us on Facebook, Twitter, Instagram, LinkedIn and YouTube.
###
All brand names and product names are trademarks or registered trademarks of their respective companies.
Tags: Space Foundation, Space Certification, BookLogix, Rocket Recorder, Laurie Orth, STEAM education, STEM, music education, lifelong learning, NASA
Media Contacts:
Rich Cooper
Vice President, Strategic Communications & Outreach
Space Foundation
(202) 596-0714
[email protected]
Dottie O'Rourke
TECHMarket Communications
(650) 344-1620
[email protected]
---
Posted in Space Certification Program