Space Foundation News
---
PIONEERING Report Media Coverage for Dec. 6
Written by: developer
The Space Foundation released its PIONEERING: Sustaining U.S. Leadership in Space report at a briefing event in Washington, D.C., on Dec. 4. The briefing was attended by 60 industry and government representative and reporters, including representative of multiple nations.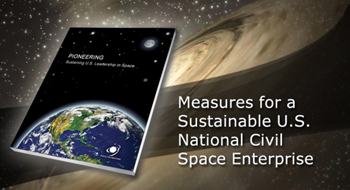 Space Foundation Chief Executive Officer Elliot Pulham gave an overview of the NASA report and fielded questions from the audience and reporters.
Read initial media coverage from Dec. 4 and 5 here.
---
Posted in Space Foundation News