Space Foundation News
---
One Last Chance to Save!
Written by: developer
The Space Foundation has extended the deadline for its Early Bird rate for the 29th National Space Symposium until Friday, March 22.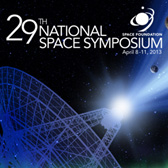 The effects of sequestration have made it difficult for some of our regular attendees to make travel plans, so we extended the deadline for another week.
Register now and save up to $200 on standard industry registration at www.NationalSpaceSymposium.org/register.
Widely known as the premier space policy and program forum for the global space community, the Space Symposium will feature more than 100 top-level international speakers and panelists, and will be held April 8 – 11 at The Broadmoor Hotel in Colorado Springs, Colo.
One of the main reasons to attend the Space Symposium is the Lockheed Martin Exhibit Center, featuring the latest in space technology, products and services and, this year, the greatest number of international exhibits in Space Symposium history, plus over 30 first-time Space Symposium exhibitors.
More than 160 space-related companies, educational institutions, associations and organizations will be on display for Space Symposium registrants. The exhibit center is sold out and is not open to the general public, except for uniformed military personnel.
The Space Symposium is offered in conjunction with a separate Space Foundation conference, Cyber 1.3, to be held during the day on April 8, immediately preceding the Space Symposium's opening ceremony.
Space Symposium and Cyber 1.3 speakers and agenda are subject to change, so see the most current details at www.NationalSpaceSymposium.org/agenda.
Register securely now for both events at www.NationalSpaceSymposium.org/register.
Separate meal ticket purchase is required for industry registration; see information at www.NationalSpaceSymposium.org/register.
---
Posted in Space Foundation News