Space Foundation News
---
Fusion Forum Brings Together Delegates from 17 Nations
Written by: developer
The Space Generation Advisory Council (SGAC), along with the Space Foundation hosted the second annual Fusion Forum at The Broadmoor Hotel in Colorado Springs, Colo., April 7 and 8, preceding the 29th National Space Symposium. Fifty delegates representing 17 nations attended the event, providing a diverse base of students and next generation leaders for discussion of the space industry.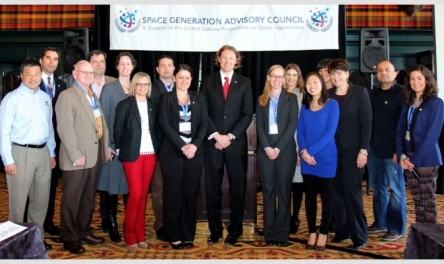 Current space exploration topics were highlighted, including space sustainability, data exchange and cooperation, innovative space strategies and regional space programs. Throughout the discussion, the importance of international partnerships was stressed. Delegates asserted that true international cooperation is necessary to ensure the future of space exploration and the safety of the space environment.
Additionally, delegates heard from several leaders in the industry. Confirming the importance of partnerships, Sierra Nevada Corporation Vice President Mark Sirangelo noted that SNC is a "big proponent of partnerships. It's hard to get anything done in this industry without them". DLR Chairman Johann-Dietrich Wörner emphasized the importance of youth interaction in the future of space exploration, saying, "Young professionals expect senior mentoring, but in reality senior executives can learn a lot from passionate young professionals".
The Fusion Forum concluded with the awarding of the Fusion Forum MVP award, given to Lewis Groswald. This award, co-sponsored by the American Institute of Aeronautics and Astronautics (AIAA), gives the recipient the opportunity to report the findings of the Forum at the AIAA SPACE 2013 Conference, to be held in San Diego, Calif., in Spetember. 
See more Fusion Forum photos here.
Pictured: SGAC staff and Fusion Forum speakers.
---
Posted in Space Foundation News