Space Foundation Press Releases
---
Visit indiegogo and Support the Scott Carpenter Station Restoration Mission
Written by: developer
COLORADO SPRINGS, Colo. (June 13, 2013) – Scott Carpenter is probably best known for his ride into outer space as a Mercury astronaut, not as an aquatic adventurer. But in 1965, Carpenter broke the record of human underwater habitation by spending 30 days in SEALAB II, an experimental underwater habitat developed by the United States Navy and used, among other purposes, to prove the ability of humans to live in isolation for extended periods of time.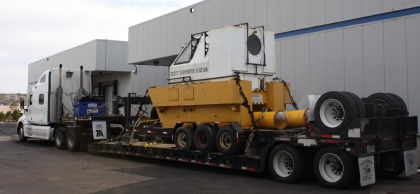 Flash forward many years and imagine an important space-related artifact named for Carpenter languishing in a warehouse. When the Space Foundation learned the Scott Carpenter Station was available, it was acquired for the new Space Foundation Discovery Center in Colorado Springs where it is currently on display.
NASA developed the Scott Carpenter Station for use during the summers of 1997 and 1998 to demonstrate and teach about life support concepts for space missions. It was named for Scott Carpenter, and was originally known as the Scott Carpenter Space Analog Station because its primary mission was to demonstrate the ways in which the ocean environment could be used as an analog for space.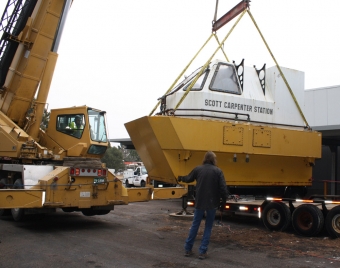 Be Part of the Mission
The Scott Carpenter Station needs work to restore it to its original appearance. In addition to rust removal and a new paint job, the Space Foundation is also raising funds to create an appropriate exhibit space that simulates an ocean environment. The Space Foundation has launched a crowd-funded restoration effort for the Scott Carpenter Station via indiegogo, with a goal of raising $35,000. Be part of the mission to preserve this important part of space history and visit indiegogo at http://bit.ly/18SO4pJ
About the Space Foundation Discovery Center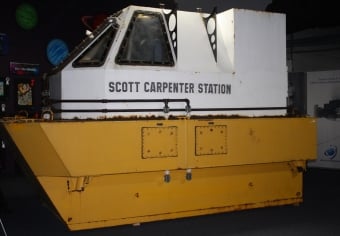 The Space Foundation Discovery Center, located at 4425 Arrowswest Drive, Colorado Springs, Colo., is the region's first and only space, science and technology attraction, and is open to the public from 10:00 a.m. to 5:00 p.m., Tuesdays through Saturdays. See details about exhibits and daily fees at www.spacefoundation.org/visit.
About the Space Foundation
The foremost advocate for all sectors of the space industry and an expert in all aspects of space, the Space Foundation is a global, nonprofit leader in space awareness activities, educational programs that bring space into the classroom and major industry events, including the annual Space Symposium, all in support of its mission "to advance space-related endeavors to inspire, enable and propel humanity." The Space Foundation publishes The Space Report: The Authoritative Guide to Global Space Activity and provides three indexes that track daily U.S. stock market performance of the space industry. Through its Space Certification™ and Space Technology Hall of Fame® programs, the Space Foundation recognizes space-based technologies and innovations that have been adapted to improve life on Earth. The Space Foundation was founded in 1983 and is based in Colorado Springs, Colo. Its world headquarters features a public Discovery Center with two main areas – the El Pomar Space Gallery and the Northrop Grumman Science Center featuring Science On a Sphere®. The Space Foundation also conducts research and analysis and government affairs activities from its Washington, D.C., office and has a field office in Houston, Texas. For more information, visit www.SpaceFoundation.org. Follow us on Facebook, LinkedIn and Twitter, and read about the latest space news and Space Foundation activities in Space Watch.
---
Posted in Space Foundation Press Releases