Space Foundation Press Releases
---
Space Foundation Discovery Center Features "Weather Wonders" July 9-13
Written by: developer
COLORADO SPRINGS, Colo. (July 9, 2013) – The Space Foundation's Discovery Center will highlight its Science On a Sphere® during a week of "Weather Wonders," July 9-13. Colorado Springs meteorologists Matt Meister and Rachael Plath will use the Sphere to illustrate their weather presentations at the Discovery Center.
Science On a Sphere is a projection system developed by the National Oceanic and Atmospheric Administration (NOAA) with datasets that project images of planets as well as Earth's ocean currents and temperatures, volcanic and tectonic activity, hurricanes and tsunamis, polar ice, air traffic patterns and a wide variety of natural and manmade phenomena.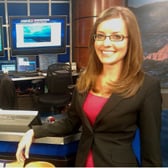 "Weather Wonders" activities at the Discovery Center include:
Thursday, July 11:
2:00 p.m. – KRDO-TV Meteorologist Rachael Plath (pictured) weather presentation featuring Science On a Sphere
Friday, July 12:
10:00 a.m. to 2:00 p.m. – Cool Science® hands-on weather-related science activities for children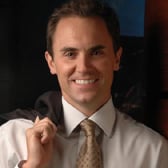 Saturday, July 13:
Free Tornado Tubes for the first 150 children admitted on Saturday
10:30 and 11:30 a.m., Science On a Sphere weather presentations by Bob Glancy, Warning Coordination Meteorologist, NOAA National Weather Service Weather Forecast Office
1:00 p.m. and 2:00 p.m. – KRDO-TV Chief Meteorologist Matt Meister (pictured) weather presentations featuring Science On a Sphere
Bounce house for young children
About the Space Foundation Discovery Center
The Discovery Center is the region's only space, science and technology attraction, and is open to the public from 10:00 a.m. to 5:00 p.m., Tuesdays through Saturdays. The Discovery Center is located at 4425 Arrowswest Dr., Colorado Springs, Colo., off of Garden of the Gods Rd., west of Centennial Blvd. Each week at the Discovery Center this summer focuses on a specific theme, culminating with a full day of special activities each Saturday, included in the price of the Saturday admission.
In addition to the Discovery Center's space exhibits and artifacts, weekly activities for children include interactive learning, crafts, puzzles and books.
Daily admission is $9 for adults, $7 for seniors (age 65+), $7 for college students with I.D., $3 for children ages 4-17. Children age three years and younger are admitted free. Admission is free with military I.D., to those impacted by Colorado wildfires and to first responders.
The Space Foundation Discovery Center is a collection point for Care and Share Food Bank for Southern Colorado. The public may bring food donations to the Space Foundation Discovery Center between 10:00 a.m. and 5:00 p.m., Mondays through Saturdays. Anyone bringing a food donation will receive a $2 off admission coupon to the Discovery Center.
Find $1 off admission coupons online at www.spacefoundation.org/summer-fun and at local Wendy's this summer. Summer of Discovery co-sponsors are 501st Legion, Drive SunShine Institute, ScienSonic and Wendy's. ATK and Snappy Print are printing co-sponsors.
Other Summer of Discovery themes at the Space Foundation Discovery Center are:
"One Giant Leap" July 16-20
"Women in Spaceflight" July 23-27
"Colorado Days" July 30-Aug. 3
"A Taste of Space Technology" Aug. 6-10
For more information, call the Space Foundation Discovery Center at 719.576.8000.
About the Space Foundation
The foremost advocate for all sectors of the space industry and an expert in all aspects of space, the Space Foundation is a global, nonprofit leader in space awareness activities, educational programs that bring space into the classroom and major industry events, including the annual Space Symposium, all in support of its mission "to advance space-related endeavors to inspire, enable and propel humanity." The Space Foundation publishes The Space Report: The Authoritative Guide to Global Space Activity and provides three indexes that track daily U.S. stock market performance of the space industry. Through its Space Certification™ and Space Technology Hall of Fame® programs, the Space Foundation recognizes space-based technologies and innovations that have been adapted to improve life on Earth. The Space Foundation was founded in 1983 and is based in Colorado Springs, Colo. Its world headquarters features a public Discovery Center with two main areas – the El Pomar Space Gallery and the Northrop Grumman Science Center featuring Science On a Sphere®. The Space Foundation also conducts research and analysis and government affairs activities from its Washington, D.C., office and has a field office in Houston, Texas. For more information, visit www.SpaceFoundation.org. Follow us on Facebook, LinkedIn and Twitter, and read about the latest space news and Space Foundation activities in Space Watch.
---
Posted in Space Foundation Press Releases