Space Certification Program
---
The Drive SunShine Institute is a Space Foundation Certification Program Partner
Written by: developer
The Space Foundation has certified the Drive SunShine Institute (DSI) as a Certified Educational Products partner for its efforts in supporting a green environment and clean air educational technology.

DSI promotes the use of alternative fuels such as wind and solar that, like the battery technology found in their automobiles, can be traced from technology developed for use in space.
To speed the adoption of clean technology, DSI provides large corporate campus and community events called Drive SunShine celebrations. The events feature electric vehicle and bike test drives, dynamic speakers and one-on-one conversations highlighting benefits of plug-in electric vehicles and renewable energy options, such as solar and wind.
Employees are attracted and engaged by the festival-like atmosphere, music, organic snacks and innovative electric vehicles. Also popular with sustainability managers, each corporate event has the potential to reduce annual carbon emissions by 50,000 pounds or more as employees and fleets choose cost-effective electric vehicles and solar.
Firms with leading sustainability programs like Level 3 Communications, IHS and DIRECTV have held or booked upcoming sustainability programs with DSI. Electric vehicles can also help reduce employee transportation costs as they operate at the equivalent of $1 per gallon and can be leased for less than $200 per month.
A recent survey at a Level 3 Communications event indicates that 84 percent of employees are more likely to consider purchasing or leasing a plug in electric vehicle like the Nissan LEAF, Chevy Volt or Ford C-MAX Energi following a Drive SunShine program.
About the Drive SunShine Institute (DSI)
The mission of DSI is to speed the adoption of fast electric vehicles and renewable energy. DSI is a division of The Renewable Energy Initiative, a national educational non-profit organization that works to strengthen the American economy, create jobs and build a healthy environment by increasing renewable energy production, use and investment. See more at http://drivesunshine.org.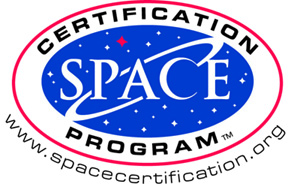 About Space Certification
Products and services that display the Space Certification™ seal are guaranteed to have stemmed from or been dramatically improved by technologies originally developed for space exploration or to have significant impact in teaching people about the value of space utilization. Developed and administered by the Space Foundation, the world's foremost advocate for all sectors of the space industry, the Space Certification program serves three purposes:
Providing a unique marketing edge for Space Certification partners
Demonstrating to the public how space technologies now improve life on Earth
Making space knowledge more interesting and accessible to everyone
There are three classifications of Space Foundation Certified Products:
Certified Technology Products – Products or services that directly result from space technology or space program development or advances in space technology
Certified Educational Products – Products used in educational environments to stimulate interest in and knowledge about space
Certified Imagination Products – Entertainment products, games or toys that increase interest in and excitement for space and inspire new generations to take an active interest in space
Space Certification products and services have been scrutinized by the Space Foundation, which works closely with NASA, the European Space Agency (ESA) and other organizations engaged in space research and development to identify and validate that they are eligible for and deserving of recognition.
A global, nonprofit organization, the sponsoring Space Foundation is a leader in space awareness activities, educational programs that bring space into the classroom, major space industry events and space research studies, analyses and publications, all in support of its mission "to advance space-related endeavors to inspire, enable and propel humanity." Through Space Certification and the Space Technology Hall of Fame® programs, the Space Foundation recognizes space-based technologies and innovations that have been adapted to improve life on Earth. Headquartered in Colorado Springs, the Space Foundation has an office in Washington, D.C., and a field office in Houston, Texas.
For more about Space Certification, click here.
This article is part of Space Watch: August 2013 (Volume: 12, Issue: 8).
---
Posted in Space Certification Program