Education
---
Apply Now for the 2014 Alan Shepard Technology in Education Award
Written by: developer
Educators who have demonstrated a commitment to inspiring students' interest in science, technology, engineering and math (STEM) may apply now to receive the 2014 Alan Shepard Technology in Education Award.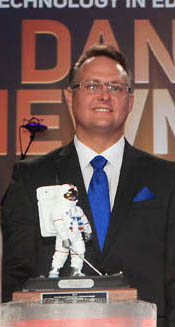 Given annually by the Astronauts Memorial Foundation (AMF), the National Aeronautics and Space Administration (NASA) and the Space Foundation, the award recognizes outstanding contributions to technology education by K-12 educators or district-level education personnel.
The Space Foundation will present the award, which is named after Mercury Astronaut Alan Shepard, on May 19, 2014, at the opening ceremony of the Space Foundation's 30th Space Symposium at The Broadmoor Hotel in Colorado Springs, Colo.
Award information and application instructions are available at www.amfcse.org.
Submissions for the 2014 award must be mailed and postmarked no later than Feb. 3, 2014. The winner will be announced in March 2014.
About the Award
Alan B. Shepard, Jr., was the first American to fly in space, one of the nation's original seven Mercury astronauts, one of only 12 humans who walked on the Moon and a former AMF board member. The award named for him recognizes excellence, quality and innovation in the development and application of technology in the classroom, or to the professional development of teachers. See more about the award and past recipients here.
Pictured: Daniel Newmyer, the 2013 recipient of the Alan Shepard Technology in Education Award 
This article is part of Space Watch: September 2013 (Volume: 12, Issue: 9).
---
Posted in Education