Space Foundation Press Releases
---
Buy Tickets Now for the 2nd Annual Space & Science Fiction Halloween Ball
Written by: developer
COLORADO SPRINGS, Colo. (Sept. 18, 2013) – Have fantastic, futuristic Halloween fun at the Space Foundation's 2nd Annual Space & Science Fiction Halloween Ball. This fundraising event will be held at the Space Foundation Discovery Center, 4425 Arrowswest Dr., Colorado Springs, on Saturday, Oct. 26, 7:00-11:00 p.m.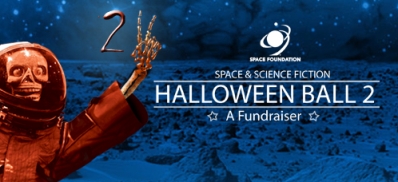 Tickets are $25 per person advance, $30 at the door. Save money by reserving tickets now at www.scifisprings.com.
The ticket price includes heavy appetizers, out-of-this-world desserts and two drinks, with cash bar and silent auction benefitting Space Foundation initiatives. This is a 21-years-and-over event, and prizes will be awarded for best costume in a variety of categories, including a special prize for best-dressed couple.
The evening also features DJ dance music, but if dancing isn't your thing, watch classic sci-fi films in the Space Foundation's Area 51 while enjoying complimentary popcorn and beverages.
Designated Driver Service Provided
The Space Foundation has partnered with Designated Driver of Colorado Springs to provide drive-home service from the Ball. Transportation is provided in the guest's own vehicle beginning at 10:00 p.m., and anyone using this service must provide current proof of insurance.
Take advantage of discounted room rates Oct. 26 at Garden of the Gods Club and at Hyatt Place Colorado Springs Garden of the Gods. See details at www.scifisprings.com.
For information regarding sponsorships or the donation of silent auction items, please contact Kelly Shelton, development coordinator, at [email protected].
About the Space Foundation
Founded in 1983, the Space Foundation is the foremost advocate for all sectors of space, and is a global, nonprofit leader in space awareness activities, educational programs and major industry events, including the annual Space Symposium, all in support of its mission "to advance space-related endeavors to inspire, enable and propel humanity." Space Foundation world headquarters in Colorado Springs, Colo., features a public Discovery Center including the El Pomar Space Gallery and the Northrop Grumman Science Center featuring Science On a Sphere®, and is a member of the American Alliance of Museums. The Space Foundation has a field office in Houston, and from its Washington, D.C., office, conducts government affairs, publishes The Space Report: The Authoritative Guide to Global Space Activity and provides three indexes that track daily U.S. stock market performance of the space industry. Through its Space Certification™ and Space Technology Hall of Fame® programs, the Space Foundation recognizes space-based technologies and innovations that have been adapted to improve life on Earth. Visit www.SpaceFoundation.org, follow us on Facebook, LinkedIn and Twitter, and read our e-newsletter Space Watch.
---
Posted in Space Foundation Press Releases