Spotlight
---
Thank You Volunteers!
Written by: developer
April is National Volunteer Appreciation Month, and the Space Foundation is extremely fortunate to receive year-round support from a dedicated corps of volunteers. More than 300 volunteers assist us with presenting the annual Space Symposium, they help at our Space Foundation Discovery Center and World Headquarters in Colorado Springs, Colo., and with research and public outreach at our Washington, D.C., office. Our volunteers are a vital part of our team, and we appreciate their hard work and professionalism.
In this month's Space Watch, we want express our sincere thanks to all of our volunteers, and feature one of our Discovery Center volunteers, Ken Bond.
Ken Bond - A Passion for Space
Ken Bond discovered his passion for space at the Colorado School of Mines, where he received a degree in geophysics. Following college, he worked in Australia, but after being laid off in 1985, he returned to Colorado and began working for Martin Marietta at its facility in Littleton, Colo., as a test engineer in the Space Simulation Lab.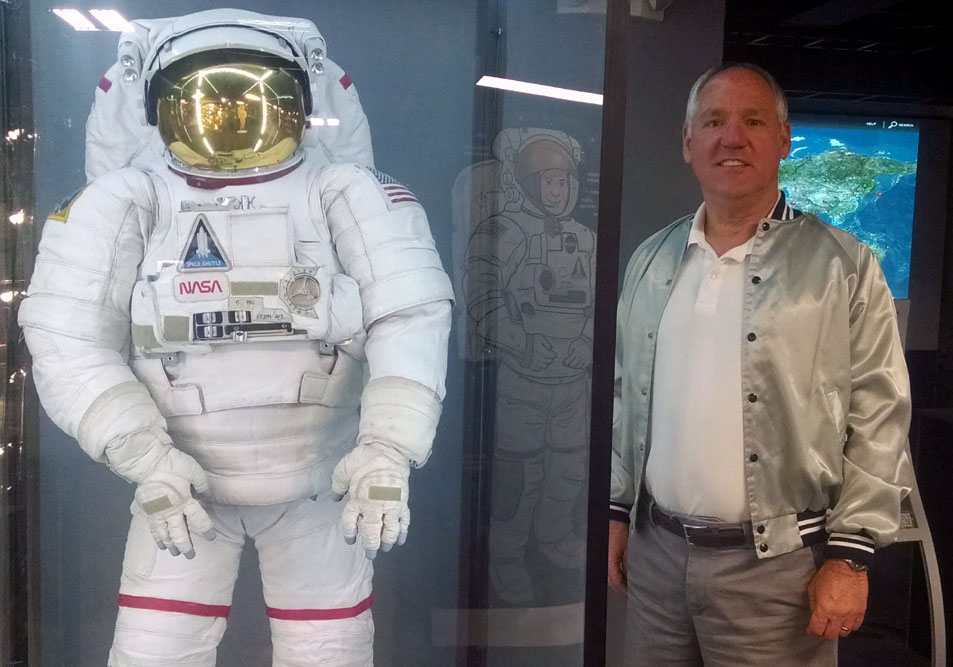 He spent nearly two years working on the Venus Radar Mapper (VRM) mission (later renamed Magellan). Ken considers his work on this mission to be the highlight of his five years with Martin Marietta. He also spent five years working in the Space Simulation Lab at the Johnson Space Center (JSC) in Houston.
During his time there, he worked on a total of 24 Space Shuttle missions. He worked closely with the Shuttle astronauts, training them how to use the suits necessary to perform extra-vehicular activity (EVA), and part of his job even involved watching astronauts sleep. After his time at JSC, he returned to Colorado Springs and spent 16 years working for various Air Force contractors before retiring.
Ken has been volunteering with the Space Foundation for about a year and "discovered" the Discovery Center just by chance. He toured the facility with his ski club and really liked what he saw. He decided he needed to spend more time here and found that he could do that by volunteering. He also volunteers with the Western Museum of Mining and Industry and has found that he really enjoys working with children, particularly 4th and 5th graders.
Ken's favorite exhibit in the Discovery Center is the space suits, because of his history working with them. But his favorite part of his role as docent is presenting Science On a Sphere®. With his background as a geophysicist, he enjoys presenting the tour of the solar system and talking to children about Mars. It brings his passions -- rocks, minerals, science and exploration -- full circle and melds them together.
There have been many enjoyable experiences at the Discovery Center for Ken, but one special moment stands out. While giving a presentation for a family in Science On a Sphere, he handed the controls over to two middle-school age kids and let them interact and explore with the Sphere on their own. It was a real "aha" moment for Ken when he saw the passion come alive in those two youngsters that day.
Ken has experienced an interesting transformation while volunteering. He initially began volunteering in order to "entertain" himself, but as time has gone by, it has developed into a commitment and has become another part of who he is. He finds that he wants to learn more to improve and get better at his duties as a docent, in order to better represent the Discovery Center to the public.
Sharing your passion for space with the next generation is just one of the many benefits of volunteering with the Space Foundation. To read more about the benefits and how you can volunteer to help further the Space Foundation's mission to advance space-related endeavors to inspire, enable and propel humanity, click here.
This article is part of Space Watch: April 2014 (Volume: 13, Issue: 4).
---
Posted in Spotlight