Space Foundation News
---
Colorado Governor Signs Space Flight Bill at Space Symposium
Written by: developer
Colorado Governor John Hickenlooper participated in two events at the 30th Space Symposium this week in Colorado Springs. The Space Foundation's Space Symposium is an international space conference held May 19-22 at The Broadmoor.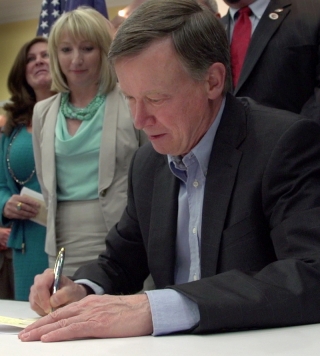 On May 20, the Governor signed a bill in the Symposium's Boeing Exhibit Center at the Colorado Space Coalition booth. The bill is HB14-1178 "Sales and Use Tax Exemption for Space Flight Property" by Representatives Mark Ferrandino and Brian DelGrosso and Senators Mary Hodge and Kevin Grantham.
After the signing the Governor spoke at the Symposium's Space Warfighters Luncheon. Featured speaker at the luncheon was Lt. Gen. John W. "Jay" Raymond, USAF, Commander, 14th Air Force (Air Forces Strategic), Air Force Space Command; and Commander, Joint Functional Component Command for Space, U.S. Strategic Command, Vandenberg Air Force Base, Calif.
The Space Warfighters Luncheon is held annually during the Space Symposium to honor the men and women who serve in the military around the world, and highlights the role space assets play in providing security and solutions for keeping troops safe, informed and effective. This year's luncheon was co-sponsored by United Launch Alliance (ULA), with corporate host Michael C. Gass, President and Chief Executive Officer, ULA.
Gov. Hickenlooper, a self-described "recovering geologist now on loan to public service," was elected Colorado Governor in 2010, after serving eight years as Mayor of Denver.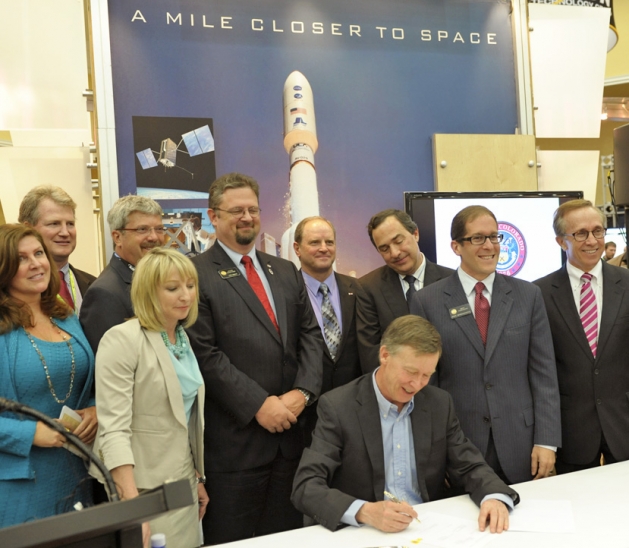 ---
Posted in Space Foundation News