Space Foundation News
---
Girls' STEM Day and Sally Ride Night A Huge Success
Written by: developer
Celebrating an Icon and Inspiring the Next Generation to Reach for the Stars
Girls, ages 3-17, had a day of fun and motivation at the Space Foundation Discovery Center in Colorado Springs on July 23 for a Girls' STEM Day. More than 50 girls and their families attended the event, and a variety of activities were offered to spark their interest in science, technology, engineering and mathematics (STEM) and to help them believe they have the potential to succeed in a career in science.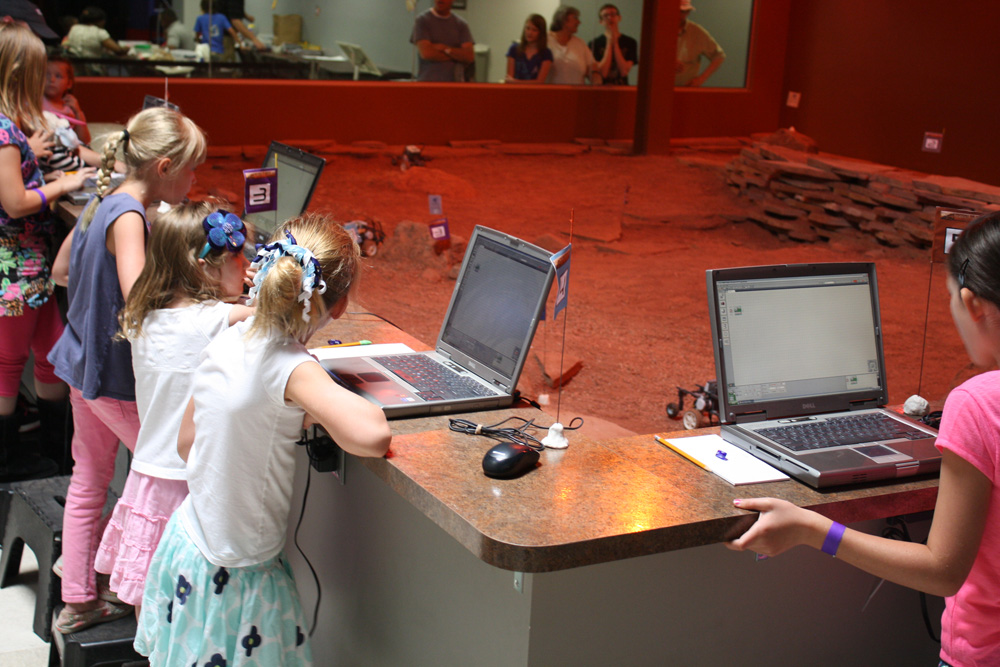 Thanks to a grant from the Joseph Henry Edmondson Foundation, the first 50 girls received free admission. In addition to participating in rocketry-themed activities as part of the Summer of Discovery program, the girls were treated to several exclusive perks:
Booklet celebrating 50 years of women in space by the United Nations
Poster featuring the women of space by NASA and Sally Ride Science
Personalized "Astronaut Me" souvenir photo in which each girl was protrayed as an astronaut
Hardbound copy of the book The Mystery of Mars, written by Sally Ride (generously donated by Sally Ride Science)
A hands-on "Mars Rover Mission" in our Mars Robotics Laboratory, in which the girls completed mission objectives by programming and operating LEGO NXT robots on the world's largest education-purposed simulated Martian terrain
Inspirational talk with award-winning journalist Lynn Sherr, author of the recently released book, Sally Ride: America's First Women in Space, who provided them a wonderful look into what they too can accomplish
Although the program focused on exciting girls about STEM, it also encouraged families to reinforce the girls' interest in STEM subjects. Comments from the girls included, "Great exciting day! I love this place!" to "The rockets are a blast" and "Best day of the summer."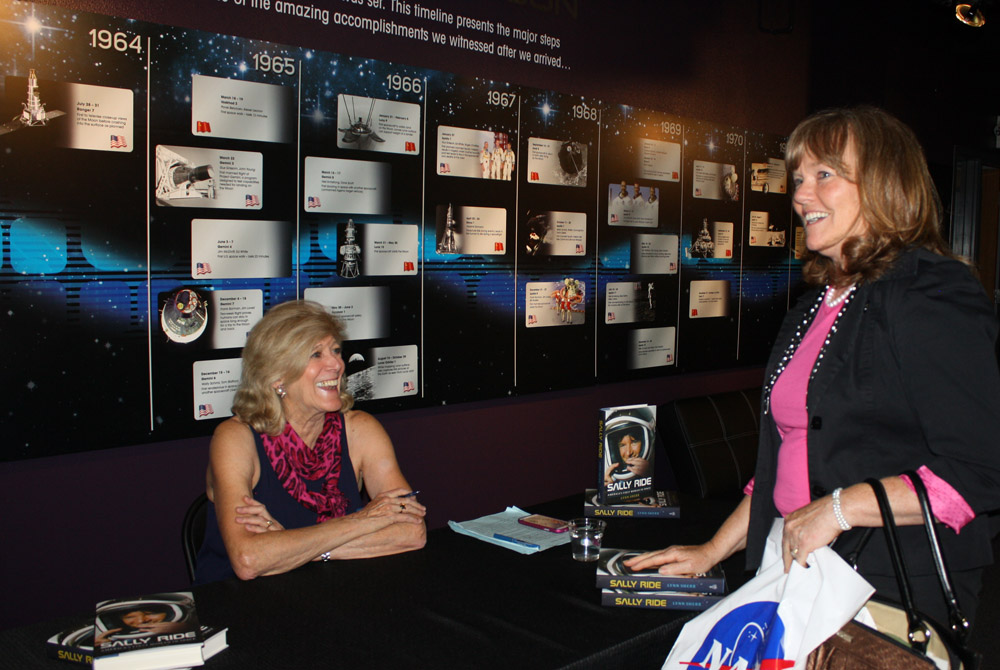 In conjunction with the Girls' STEM Day, the Space Foundation also hosted "Sally Ride Night." A memorable evening with more than 50 attendees treated to an insightful and riveting talk by veteran ABC News and 20/20 reporter Lynn Sherr. As a national correspondent for ABC News, Sherr reported on the NASA space shuttle program from its inception in 1981 through the Challenger explosion in 1986, anchoring almost every mission from launch to landing.
The working relationship between Sherr and Ride evolved into a 30-year friendship, part of the inspiration behind Sherr's book. Sherr says she hopes Ride's story is an inspiration to all readers, whether they are NASA scientists, enthusiasts who cheered on her first launch in 1983 or students who have never heard about her before.
Following her talk and Q&A with the audience, Sherr signed copies of the book, which has already become a New York Times Best Seller. A limited quantity of signed copies of the book is available for purchase in the Discovery Center Store.
The evening had an extra sentiment to it as it marked exactly two years — July 23, 2012 — that Sally Ride left Earth for the final time. Sherr says she has been calling Sally's legacy "Flying Lessons," because she taught us all how to fly without even needing a rocket. "The stars don't look bigger," Sally had said of her view of the cosmos, "but they do look brighter."
Everyone at Sally Ride Night left knowing our lives were also brighter because of her.
For more information on funding STEM programming for girls or other Space Foundation STEM education programs, please call Development at 719-576-8000 or email [email protected].
This article is part of Space Watch: August 2014 (Volume: 13, Issue: 8).
---
Posted in Space Foundation News