Space Foundation News
---
Meet NASA Astronaut Dr. Leroy Chiao on Oct. 9 at the Discovery Center
Written by: developer
The Space Foundation is bringing former NASA astronaut Leroy Chiao, Ph.D., to the Discovery Center on Thursday, Oct. 9, to share his experiences as a Space Shuttle astronaut and resident of the International Space Station (ISS).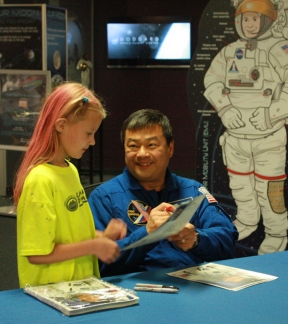 The public will have two opportunities to meet Chiao for autographs and photos for this World Space Week event on Oct. 9:
2:00 – 3:00 p.m., autographs and photos with Dr. Chiao (pictured)
5:00 – 6:00 p.m., Dr. Chiao Science On a Sphere® presentation, autographs and photos
All afternoon on Oct. 9, from 1:00 – 5:00 p.m., there will be ongoing presentations and hands-on activities in the Discovery Center to demonstrate what astronauts in training experience.
There will be a special showing from 3:30 – 4:30 p.m. on Oct. 9 — the premiere of the Science On a Sphere® film A Pale Blue Dot, with a live Google Hangout with the film's producer Victoria Weeks.
There will also be a 6:00 p.m. showing of David J. Ruck's documentary I want to be an Astronaut, which examines the current state of America's space program and a boy's quest to become an astronaut.
These Oct. 9 activities are part of the Space Foundation's World Space Week celebration and are included in the price of Discovery Center admission.
About the Space Foundation Discovery Center
The Space Foundation Discovery Center is the Pikes Peak region's only space, science and technology attraction, and is located at 4425 Arrowswest Drive in Colorado Springs, just off of Garden of the Gods Road. The Discovery Center is open Tuesday through Saturday, 10:00 a.m. – 5:00 p.m.
Discovery Center daily admission fees are $10 for adults, $7.50 for seniors (age 65+), $7.50 for college students with I.D., $4.50 for children ages 4-17. Children age three years and younger are admitted free. Military fees are $5.00 for adults with I.D., and $4.00 for military children ages 4-17 with I.D. Military includes active duty, guard, reserve or retiree with I.D. For information, call the Space Foundation at 719.576.8000.
About Leroy Chiao, Ph.D.
Based in Houston, Chiao is the Space Foundation's special advisor – human spaceflight. His Space Shuttle missions include: STS-92 Discovery, Oct. 11-24, 2000; STS-72 Endeavour, Jan. 11-20, 1996; STS-65 Columbia, July 8-23, 1994. In addition, he flew as flight engineer 1 aboard Soyuz TMA-5 to the ISS, where he served as commander and NASA science officer for Expedition 10. He lived on the ISS for six and half months. He earned a doctoral degree in chemical engineering from the University of California at Santa Barbara.
---
Posted in Space Foundation News