Space Foundation News
---
Come to the Discovery Center for the Launch of World Space Week, Oct. 4
Written by: developer
The Space Foundation will launch the start of World Space Week on Saturday, Oct. 4, with straw rocket launches and other rocket-themed activities at its Discovery Center in Colorado Springs.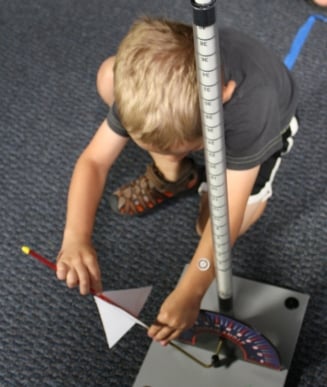 The public is invited to visit the Discovery Center for the start of the global celebration of World Space Week, Oct. 4-10. The following activities are offered for this special "Star Days" event and are included in the price of Discovery Center admission:
Launch your own mini straw rockets (pictured)
Make and take puff rockets
Remotely race rocket cars  
See rocket science demonstrations
Make rocket-themed crafts
Play rocket simulation Kerbal Space Program computer games
Activities are appropriate for all ages. Admission to the Discovery Center includes self-guided tours of the El Pomar Space Gallery and Science On a Sphere® presentations.
"Star Days" are held one Saturday each month at the Discovery Center, 10:00 a.m. – 5:00 p.m., with a special space theme offered that day. Admission savings are available through the Discovery Center Passport program. Learn more at www.spacefoundation.org/museum.
About World Space Week
World Space Week was launched by the United Nations General Assembly in 1999 with the purpose of celebrating "the contributions of space science and technology to the betterment of the human condition." It is always celebrated Oct. 4-10, and this year's theme is "Space: Guiding Your Way," highlighting the benefits of satellite navigation to society.
The Space Foundation annually leads the celebration of World Space Week in the United States with activities at its Discovery Center and with educational programs for schoolchildren locally and around the world via GlobalCasts. Learn more about Space Foundation education outreach at www.spacefoundation.org/education.
About the Space Foundation Discovery Center
The Space Foundation Discovery Center is the Pikes Peak region's only space, science and technology attraction, and is located at 4425 Arrowswest Drive in Colorado Springs, just off of Garden of the Gods Road. The Discovery Center is open Tuesday through Saturday, 10:00 a.m. – 5:00 p.m.
Discovery Center daily admission fees are $10 for adults, $7.50 for seniors (age 65+), $7.50 for college students with I.D., $4.50 for children ages 4-17. Children age three years and younger are admitted free. Military fees are $5.00 for adults with I.D., and $4.00 for military children ages 4-17 with I.D. Military includes active duty, guard, reserve or retiree with I.D. For information, call the Space Foundation at 719.576.8000.
---
Posted in Space Foundation News