Space Foundation Press Releases
---
Register Now for Space Foundation's 31st Space Symposium
Written by: developer
COLORADO SPRINGS, Colo. (Oct. 7, 2014) – Now is the best time to register for the 31st Space Symposium to take advantage of the lowest rate that will be offered for the premier space conference of 2015.
The 31st Space Symposium will be held April 13-16, 2015, at The Broadmoor in Colorado Springs, Colo., USA, and the Space Foundation is offering a Super Savings rate now on standard industry registration at www.SpaceSymposium.org.
The caliber of participants, the extraordinary venue and the structure of the agenda create the perfect environment for making contacts and getting business done. Our customers tell us they attend the Space Symposium primarily to connect with customers, conduct meetings and achieve business goals — all in one place at one time.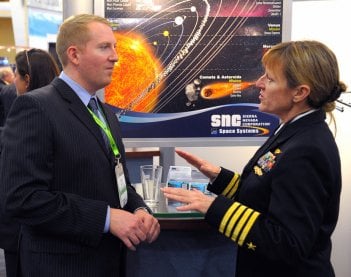 Some 31st Space Symposium highlights include:
The Ball Aerospace Exhibit Center and Pavilion, with more than 160 displays of the latest in space technology, products and services
A reformatted classified Cyber 1.5 event with compelling presentations
A globally focused agenda with more than 100 top civil and military space leaders from the U.S. and abroad slated to speak
Targeted workshops for New Generation space professionals age 35 and younger, with plentiful networking events
Technical Track sessions, back by popular demand, with forward-thinking experts sharing perspectives in their respective fields 
Special events and programs for corporate partners
Presentation of prestigious Space Foundation awards, including the General James E. Hill Lifetime Space Achievement Award, the Alan Shepard Technology in Education Award, the John L. "Jack" Swigert, Jr., Award for Space Exploration, the Space Achievement Award and Douglas S. Morrow Public Outreach Award
Induction of life-changing space-related technologies into the Space Technology Hall of Fame®
Active Military/Government Rate
The Space Foundation offers reduced pricing for active military and government registrants. The agenda includes sessions and presentations of special interest to the military, such as featured speaker The Honorable Deborah Lee James, Secretary of the Air Force on April 16.
The active military/government rate includes admission to Symposium general sessions, exhibits, receptions, plus one ticket to each Symposium dinner and one ticket to a Symposium luncheon, such as the Space Warfighters Luncheon on April 14. This special rate does not apply to contractors who work for or with the government or military.
Space Symposium Website Available in 71 Languages
For the convenience of our ever-growing host of international participants, our web team has created a dynamic website that offers the most up-to-date Space Symposium information in 71 languages.
Register Now
Visit www.SpaceSymposium.org for secure online registration and complete conference information, or call +1.800.691.4000.
About the Space Foundation
Founded in 1983, the Space Foundation is the foremost advocate for all sectors of space, and is a global, nonprofit leader in space awareness activities, educational programs and major industry events, including the annual Space Symposium, in support of its mission "to advance space-related endeavors to inspire, enable and propel humanity." Space Foundation World Headquarters in Colorado Springs, Colo., USA, has a public Discovery Center including the El Pomar Space Gallery and the Northrop Grumman Science Center featuring Science On a Sphere®, and is a member of the American Alliance of Museums. The Space Foundation has a field office in Houston, and conducts government affairs from its Washington, D.C., office. It annually publishes The Space Report: The Authoritative Guide to Global Space Activity and through its Space Certification™ and Space Technology Hall of Fame® programs, the Space Foundation recognizes space-based innovations that have been adapted to improve life on Earth. Visit www.SpaceFoundation.org, follow us on Facebook, LinkedIn and Twitter, and read our e-newsletter Space Watch.
---
Posted in Space Foundation Press Releases