Space Foundation News
---
Pulham Speaks at FAA Conference
Written by: developer
Space Foundation Chief Executive Officer Elliot Pulham was a featured speaker today at the 18th Annual FAA Commercial Space Transportation Conference, being held Feb. 4 and 5 at the National Housing Center, in Washington, D.C. The conference focuses on U.S. commercial launch activities, commercial human spaceflight, commercial crew and commercial spaceports.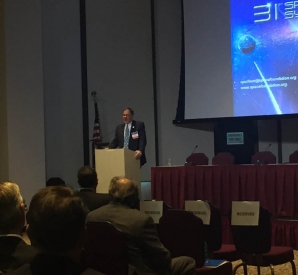 In his comments, Pulham estimated that 1,155 satellites will be built in the coming decade, and he predicted a global space economy of $600 billion by 2024. He referenced the Space Foundation's annual publication The Space Report: The Authoritative Guide to Global Space Activity. He also previewed the Space Foundation's international space conference, the 31st Space Symposium, coming up April 13-16 in Colorado Springs, Colo. 
Information about speakers and registration for the 31st Space Symposium may be found at www.SpaceSymposium.org.
---
Posted in Space Foundation News