Space Certification Program
---
Thank You Summer of Discovery Sponsors; Certification Partners Donate Giveaways
Written by: developer
The Summer of Discovery is in full swing at the Space Foundation Discovery Center in Colorado Springs, and thanks to the generosity of our sponsors, is better than ever. Raytheon takes the lead as our premier Summer of Discovery sponsor. Raytheon Company is a technology and innovation leader specializing in defense, security and civil markets throughout the world. With a history of innovation spanning 92 years, Raytheon provides state-of-the-art electronics, mission systems integration and other capabilities in the areas of sensing; effects; and command, control, communications and intelligence systems; as well as a broad range of mission support services. Learn more by visiting www.raytheon.com.
The 2015 Summer of Discovery theme is "Take a Space-cation," featuring hands-on science, technology, engineering and math (STEM) activities for all ages.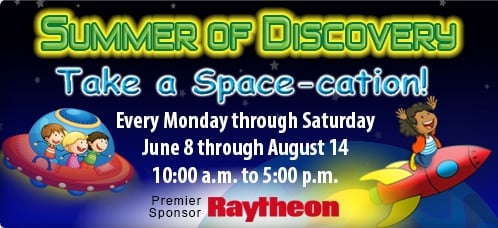 Five of the Space Foundation's Space Certified partners are Summer of Discovery technology co-sponsors and have donated great giveaways for our visitors. Thank you to these Space Certification Partners:
American Outdoor Products, Inc., an independent, family-owned and operated company located in Boulder, Colo., is known for astronaut foods, particularly the ever-popular Astronaut Ice Cream which is a favorite among our Discovery Center customers and is the top-seller in our Discovery Center Store. Representatives from American Outdoor Products will be on-site at the Discovery Center on Super Saturdays Aug. 1 and 8, offering A Taste of Space Technology to all who wish to sample. These delectable delights are available in several flavors as giveaways this summer and for purchase in the Discovery Center Store.
Eagle Eyes Optics donated polarized sunglasses from their FREEDOM™ Series Military Aviators line as prizes for the Space Foundation's social media promotional contest for Summer of Discovery. Beyond most ordinary sunglasses, Eagle Eyes® offers scientifically-proven benefits to the human eye. The secret is in the Eagle Eyes® polarized, award-winning TriLenium® Lens Technology, which offers "dual-action" benefits to block out 99.9 percent harmful UVA, UVB and vision-destroying blue-light, and allow in selective vision-enhancing light rays. The result? Maximum Protection. Superb Clarity and Contrast. Optimum Reduction in Eyestrain and Fatigue. Developed from original NASA optic technology, tested and proven in the harshest solar radiation environments, certified by the Space Foundation and inducted into the Space Technology Hall of Fame in 2010.

Heatsheets® is the flagship brand of Advanced Flexible Materials (AFM, LLC), a leading manufacturer of reflective insulation fabrics that harness natural energy sources such as body heat. Heatsheets material is also a broad adoption of one of the first technologies inducted into the Space Technology Hall of Fame in 1996. The Discovery Center will be giving away Heatsheets reflective blankets on each of the Super Saturdays throughout Summer of Discovery. Additional unbranded Heatsheets reflective blankets will be available for purchase in the Discovery Center Store.
 
Motion Pixel Lab, Inc. of Colorado Springs, and publisher of the Beer, Wine & Spirit Drinker's Guide to Colorado, has donated maps and guides as prizes for the Space Foundation's social media promotional contest for Summer of Discovery. The map was developed using two kinds of space technology: digital terrain data gathered by Space Shuttle-borne radar was used to create the topo-physical relief map and global positioning system (GPS) data was used to calculate accurate elevation data for the list of Colorado fourteeners. These maps and booklets are available for purchase in the Space Foundation Discovery Center Store.
Outlast Technologies LLC, headquartered in Golden, Colo. Outlast Technologies LLC's Smart Fabric technology is based on technology developed to protect astronauts against extreme temperature fluctuations in space. Their fabrics and foams contain micro encapsulated phase change materials called Thermocules® that absorb, store and release heat. This patented technology is used in a range of consumer products such as active wear to provide a more comfortably stable temperature. The Smart Fabric technology was a Space Technology Hall of Fame inductee in 2005.
Social Media Contest
The social media promotional contest is a series of four giveaways, one for each Summer of Discovery theme. The first giveaway, for which the submission period has ended, involved spotting a blue 3D printed coin bearing the Space Foundation logo and submitting a photo of it via Instagram. The current giveaway can be entered by locating and capturing a photo of a runaway orange alien carrying a Discovery Center flag and uploading it to the Space Foundation Facebook page. The third contest challenges visitors to find an asteroid that has been claimed by the Discovery Center (as indicated by the flag embedded in it) and submitting a photo to the Space Foundation Twitter profile, @spacefoundation, utilizing the hashtag #Space4Fun. The final giveaway in the series brings all three social media sites together and more chances to win. Guests will locate the Wall-E robot, snap a selfie with him and submit them via Instagram, Facebook and Twitter, using the #Space4Fun hashtag, with each social site upload counting as one submission. For more on the complete terms and conditions visit us here.
Follow us on all our social media channels, Facebook, Twitter, Instagram, LinkedIn, Google+, Pinterest, Flickr and YouTube.
The Space Foundation Discovery Center is the only space, science and technology attraction in the Pikes Peak region. Only about five minutes away from Garden of the Gods, the Discovery Center is located at 4425 Arrowswest Drive in Colorado Springs. Summer hours, effective June 1 through Aug. 15, are Monday through Saturday, 10:00 a.m. - 5:00 p.m.
About Space Certification
The Space Foundation builds awareness of the benefits of space through our Space Certification™ program, which demonstrates how space technologies improve life on Earth and makes space more interesting and accessible to everyone. Products and services that display the Space Certification seal are guaranteed to have stemmed from, or been dramatically improved by, technologies originally developed for space exploration, or to have significant impact in teaching people about the value of space utilization.
Using the official Space Certification seal provides a marketing edge for partners, demonstrates how space technologies improve life on Earth and makes space more accessible to everyone. Learn the how to become a Space Certification partner here, or by contacting Rebecca Williams, Space Awareness Program Coordinator, at [email protected]
This article is part of Space Watch: July 2015 (Volume: 14, Issue: 7).
---
Posted in Space Certification Program