Global Space
---
Symposium Panel to Feature 10 World Space Agency Leaders
Written by: developer
The first panel presentation of the Space Foundation's four-day 33rd Space Symposium will be a discussion of the most pressing global space issues by the world's top space agency leaders. Confirmed leaders who will be joining the panel include:
Mohammad Nasser Al Ahbabi, Ph.D., Director General, United Arab Emirates Space Agency
Gwang-Rae Cho, Ph.D., President, Korean Aerospace Research Institute
Dr. Pascale Erhenfreund, Chair of the Executive Board, German Aerospace Center (DLR)
Sylvain Laporte, President, Canadian Space Agency
Jean-Yves Le Gall, President, Centre National d'Études Spatiales (CNES)
Francisco Javier Mendieta Jiménez, Ph.D., General Director, Mexican Space Agency
Ger Nieuwpoort, Ph.D., Director, Netherlands Space Office
Marius-Ioan Piso, Ph.D., President and Chief Executive Officer, Romanian Space Agency
Pham Anh Tuan, Ph.D., Director General, Vietnam National Satellite Center
Dr. Johann-Dietrich Wörner, Director General, European Space Agency (ESA)
The 33rd Space Symposium will be held April 3-6, 2017, at The Broadmoor in Colorado Springs, Colo., USA, and will feature discussion of emergent space technology, and more than 160 displays of the world's latest space technology, products and services in the Boeing Exhibit Center and Boeing Exhibit Center Pavilion.
Visit www.SpaceSymposium.org for complete conference information. A discount on standard industry registration is in effect if paid by Jan. 20, 2017.
Sponsorship
Co-sponsors for the 33rd Space Symposium include: AGI; Blue Origin; Boeing; Colorado Space Coalition; Dynetics; El Pomar Foundation: Inmarsat; Lockheed Martin; Northrop Grumman; Raytheon; Secure World Foundation; SES Government Solutions; Stellar Solutions; SpaceX; Spincraft; United Launch Alliance (ULA).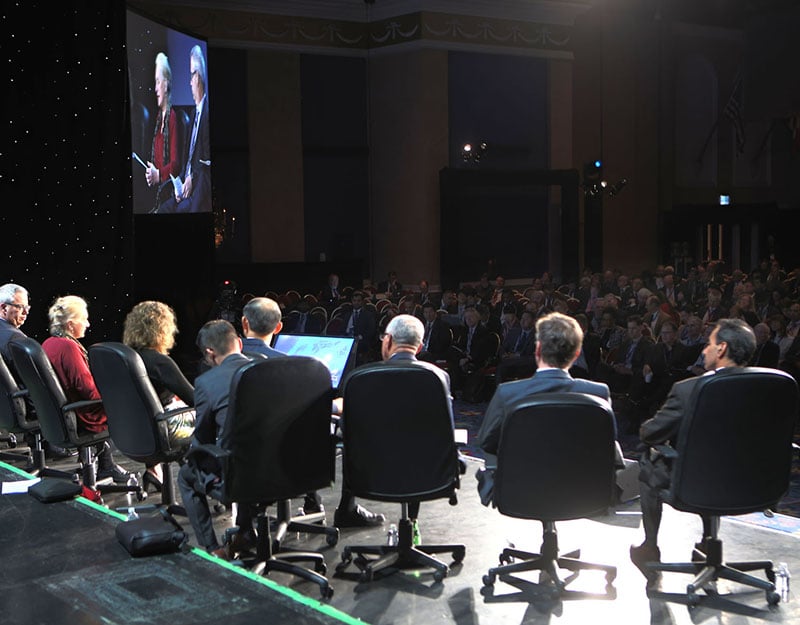 This article is part of Space Watch: January 2017 (Volume: 16, Issue: 1).
---
Posted in Global Space