Space Foundation News
---
Take a Sneak Peek at the 34th Space Symposium
Written by: developer
Every year, thousands of people journey to Colorado Springs, Colo., for the annual Space Symposium. Generally regarded as the one must-attend global space event, the Space Symposium brings together leaders and visionaries to discuss, address and plan for the future of space.
It's worth your time to attend to hear from these featured speakers: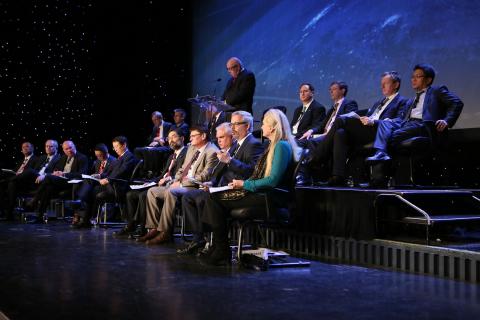 Gen. John E. Hyten, USAF
Commander
USSTRATCOM

Gen. John W. "Jay" Raymond, USAF
Commander
Air Force Space Command
The Honorable Heather Wilson
Secretary
U.S. Air Force
Dr. Johann-Dietrich Wörner
Director General
European Space Agency
See more featured speakers here and visit www.SpaceSymposium.org for complete conference information and secure online registration. A discount is now in effect for registration paid by Jan. 19, 2018. The discount is the lowest rate that will be offered on standard industry registration, and does not apply to contractors who work for, or with, the government or military.
34th Space Symposium Sponsorship
a.i. solutions, AGI, Aviation Week Network, BAE Systems, Ball Aerospace, Boeing, Colorado Space Coalition, FedEx, Harris, Inmarsat, Leidos, Lockheed Martin, Northrop Grumman, Peraton, Raytheon, Riverside Research, SES Government Solutions, SpaceNews, ULA.
---
Posted in Space Foundation News