Space Awareness
---
Space Foundation Discovery Center Apollo 11 50th Anniversary Celebration
Written by: Space Foundation Editorial Team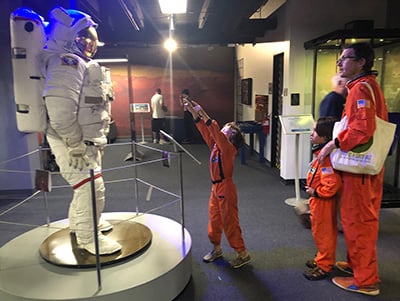 History was made 50 years ago today with humankind's first steps on the Moon. Today, the Space Foundation Discovery Center in Colorado Springs celebrated the Apollo 11 Moon landing with a full day of rockets, rovers, robotics and real-life adventures in space as presented by former NASA astronaut Duane "Digger" Carey.
There were exhibits explaining and capturing the significance of the Apollo 11 mission, combined with educational, hands-on STEM activities supporting the learning and technology needed for current and future achievements in space.
More than 1,000 space fans attended today's celebration at the Discovery Center, and those who were old enough to remember the Apollo 11 mission were invited to share their memories for future generations in a Video Memory Booth. Others, could experience the Moon landing through virtual reality. And looking to future exploration of the red planet, the Discovery Center's Mars Robotics Laboratory challenged visitors to maneuver rovers over a simulated Martian terrain.
The day's activities also included the United States Postal Service unveiling of the new Apollo 11 First Moon Landing stamp.
Chick-fil-A cowThanks to support by premier sponsor Raytheon, 25 military families were admitted free to the celebration.
Participating partners included:
Chick-fil-A Garden of the Gods
Colorado Springs Astronomical Society
Estes Rockets
Girl Scouts of Colorado
Global View/Earthseeds
Pikes Peak Library District
United States Air Force Academy
Those who missed the July 20 celebration should plan a trip to the Discovery Center to learn about the space race and Moon landing and other Apollo missions, as well as trying out a variety of other space-themed, hands-on activities.
The Discovery Center is open Tuesday – Saturday, 10:00 a.m. – 4:00 p.m., and is located at 4425 Arrowswest Drive in Colorado Springs. Learn more about visiting the Discovery Center here.
Stamp unveilingBoy in space suit
exterior of Space Foundation building
Saturday, July 20, 2019
---
Posted in Space Awareness