Space Foundation News
---
Space Foundation Takes its Space Commerce Workshop to Huntsville
Written by: Space Foundation Editorial Team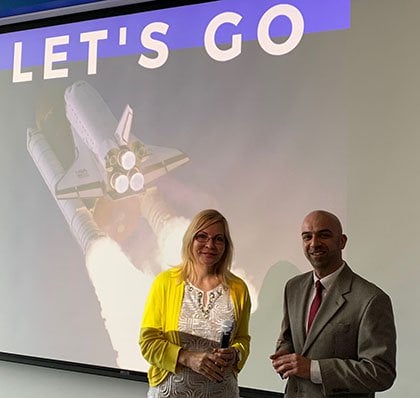 test caption
This week, the Space Foundation held another of its one-day space commerce workshops in Huntsville, Ala. The workshop was offered free to minority business owners, with the goal of addressing the most common challenges companies face in growing their business. The workshop is one of a series offered by the Space Foundation, funded by a grant from the U.S. Department of Commerce, Minority Business Development Agency.
Space Foundation Chief Operating Officer Shelli Brunswick hosted the workshop with Rigved Joshi (both pictured right), director of the University of Alabama's Dorothy S. Davidson Innovation to Invention Center, site of the workshop.
More than 30 people attended the workshop, which included presenters:
Diane Dimeff, Space Commerce, Chief Advisor, Space Foundation
Mo Kanwischer, Space Commerce Advisor, Space Foundation
Kelli Kedis Ogborn, Strategic Programs Advisor, Space Foundation
Some of the topics addressed were customer discovery and value proposition, scaling and strategy and partnering for investment.
The next space commerce workshop will be held in Orlando, Fla., at National Entrepreneur Center, 3201 E. Colonial Drive, on Wednesday, Aug. 21. A lunch and a networking reception will be included.
Registration for the workshop is free to Minority-Owned, Women-Owned and Veteran-Owned businesses. See details here.
Photo of Huntsville workshop attendees
Wednesday, July 31, 2019
---
Posted in Space Foundation News