Space Foundation News
---
Space Foundation Holds Space Commerce Workshop in Orlando
Written by: Space Foundation Editorial Team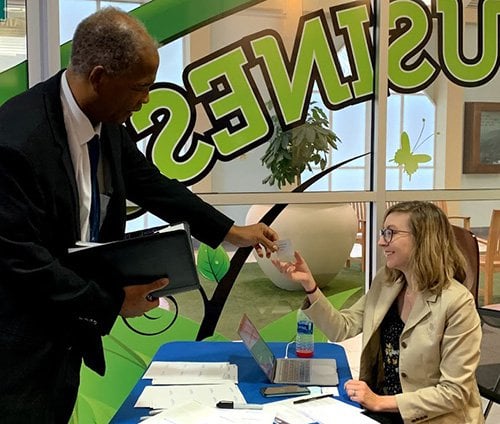 Today, the Space Foundation hosted a one-day Space Commerce Training Program in Orlando, Fla., funded by a grant from the U.S. Department of Commerce Minority Business Development Agency. Registration for the workshop was free to Minority-Owned, Women-Owned and Veteran-Owned businesses.
In the workshop, industry experts shared information about emerging business opportunities within the space community. Some of the topics discussed included:
Positioning Your Company or Product
Scaling and Strategy
Creating Your Value Proposition
Partnering for Investment
The program was held at National Entrepreneur Center, Orlando, and opened with comments by Janeiro R. Coulter (pictured below), City of Orlando Minority Business Manager. The day also included a luncheon with featured speaker Matt Chesnut, Director of Business and Economic Development at Space Florida.
Other featured guests and presenters included:
Joni Richards, Customer Technology Manager, NASA Kennedy Space Center
Steve South, Program Manager, Florida Procurement Technical Assistance Center (PTAC)
Scott Ritchie, Director of Investor Relations, StarterStudio
Phil Zeman, Commercial Banker/SVP, CenterState Bank Central
G. Michael Lester, Technology Transfer Partnership Manager, KSC Technology Transfer Officer, Kennedy Space Center
Michael Vinje, KSC Small Business Technology Manager, NASA Kennedy Space Center
Shelli Brunswick, COO, Space Foundation
Diane Dimeff,  Chief Advisor, Space Foundation
Kelli Kedis Ogborn, Strategic Programs Advisor, Space Foundation
Reception and networking featured guests:
Judge Belvin Perry JR., Former Chief Judge in Florida's Ninth Judicial Circuit
Jerry Ross, CEO, National Entrepreneur Center
Kevin Carr, CEO, FloridaMakes
Steve Lloyd, Chief Development Officer, All Points Logistics
The Space Foundation has been holding a series of training workshops around the country to help companies address the most common challenges faced in entering the space industry.
Those who missed the workshops, or those who want to follow up on their learning, may take advantage of the free Space Commerce Webinar and Speaker Series here.
---
Posted in Space Foundation News