Space Foundation Press Releases
---
Student Artists from around the Globe are Invited to Participate in the Space Foundation's 10th Annual International Student Art Contest
Written by: Space Foundation Editorial Team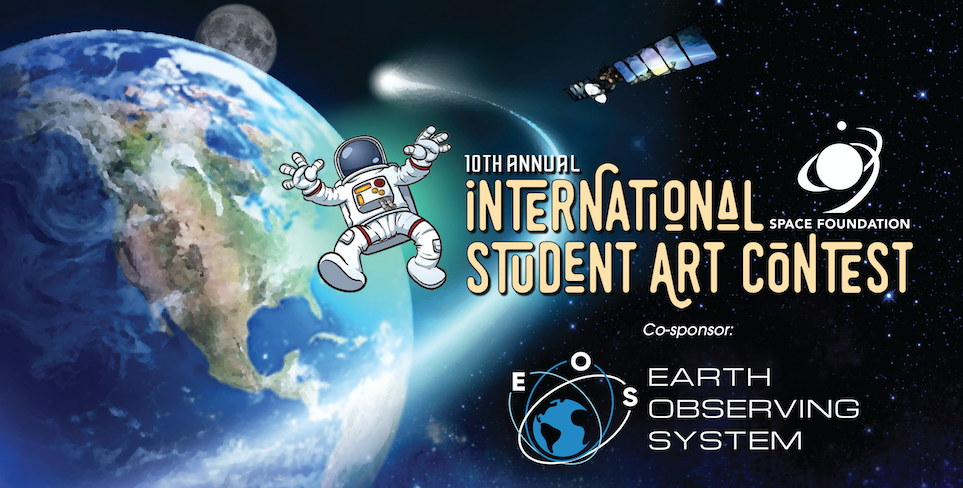 COLORADO SPRINGS, Colo. (Aug. 20, 2019) – The Space Foundation is now accepting entries for its 10th Annual International Student Art Contest. Student artists ages 3 to 18 years old are invited to enter the 2020 contest by submitting their original artwork. Children may draw, paint or create a mixed media or digital work of art for the 2020 contest theme, "How Exploring Space Improves Life on Earth."
The annual contest receives thousands of entries each year from around the world. In 2019, more than 3,900 entries were submitted from 36 U.S. states and 61 countries. The 2020 contest is co-sponsored by Earth Observing System.
"I have greatly enjoyed viewing the tens of thousands of inspired contest entries from talented student artists over the past ten years," stated Nancy Reed, Director – Marketing & Creative Services for the Space Foundation. "I treasure gained insights from my involvement with the contest, that young artists' creativity and their view and love of space is universal throughout the world, demonstrating how space truly bonds us together, a wonderful thing indeed!"
There is no cost to participate in the contest. The deadline to submit entries is noon universal time (12:00 UTC), Nov. 18, 2019, and artwork must be submitted online by the student's teacher, parent or legal guardian, 18 years or older. Homeschool students are also invited to participate.
Prizes will be awarded by age category and the winners will be notified in January 2020.
Awards and Categories
The Space Foundation will award a total of 25 winners – first, second and third place for each age category and a Space Foundation Achievement Award.
Acceptable Artwork Media/Format
Drawing
Painting
Mixed media
Digital
Eight Age Categories
3 – 4 years
5 – 6 years
7 – 8 years
9 – 10 years
11 – 12 years
13 – 14 years
15 – 16 years
17 – 18 years
Prizes and Exposure
Winning entries will be displayed on the Space Foundation website and on the contest website, social media and at the 36th Space Symposium in Colorado Springs, Colo., USA, where space professionals from around the world will see the exhibit. View past contest winning artwork at: Art.SpaceFoundation.org
Winning artwork will also be displayed at the Space Foundation headquarters and Discovery Center in Colorado Springs.
All winners receive international exposure — digital images of past winners' artwork have been sent to the International Space Station and displayed throughout China in 2018 as part of a national art exhibition by the Chinese Society of Astronautics (CSA).
How to Enter
All artwork must be original works of art and submitted electronically at Art.SpaceFoundation.org by a teacher, parent or legal guardian, 18 years or older. For general contest questions, contact the Space Foundation at [email protected].
Due to the high volume of entries, we are unable to contact and/or respond to each participant regarding contest status. Please watch Art.SpaceFoundation.org for details and announcements.
About Earth Observing System
EOS is a company which provides a unique solution in EO imagery processing and analysis. Automated on-the-fly processing, data agnosticism, ability to use third party data and big amount of self-developed methods grants companies with the incredible competitive advantages
For more information please visit https://eos.com/
About the Space Foundation
Founded in 1983, the Space Foundation is a 501(c)(3) nonprofit and the world's premier organization to inspire, educate, connect, and advocate on behalf of the global space community. It is a leader in space awareness activities, educational programs, and major industry events, including the annual Space Symposium. Space Foundation headquarters is in Colorado Springs, Colo., USA, and has a public Discovery Center, including El Pomar Space Gallery, Northrop Grumman Science Center featuring Science On a Sphere®, and the Lockheed Martin Space Education Center. The Space Foundation has a Washington, D.C., office and field representatives in Houston and the Florida Space Coast. It publishes The Space Report: The Authoritative Guide to Global Space Activity, and through its Space Certification™and Space Technology Hall of Fame® programs, recognizes space-based innovations that have been adapted to improve life on Earth. Visit both of our websites – www.SpaceFoundation.org and DiscoverSpace.org – and follow us on Facebook, Twitter, Instagram, LinkedIn, and YouTube.
# # #
Space Foundation Contact:   
Colleen Kiernan, Manager – Social Media & Public Relations 
[email protected]
---
Posted in Space Foundation Press Releases