Discover Space
---
Washington, D.C., Weekly Space Activity Report
Written by: Washington, D.C. Team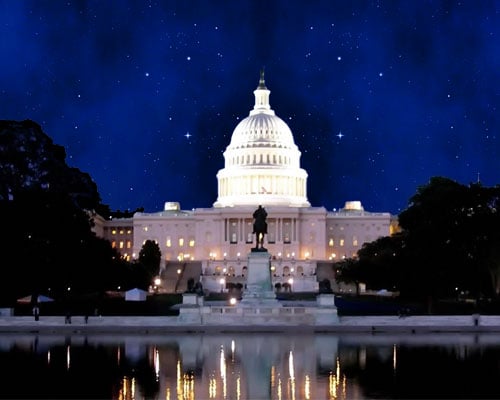 The Space Foundation's Washington, D.C., team prepares this weekly report of space activity on the Hill. It is published on Mondays on the Space Foundation homepage.
Space Industry Updates
Nov. 5-6: At the Air Force Space Pitch Day, the Air Force awarded startup Launcher $1.5 million for E-2 rocket engine development and testing. Over the two days, the Air Force also awarded $22.5 million in Small Business Innovation Research (SBIR) to 30 companies.
Nov. 11: WFIRST passed the preliminary design review. However, FY2020 funding for WFIRST differs between the House and Senate Appropriation bills, which could lead to launch delay.
Nov. 12: BlackSky, a geospatial data provider, secured a $50 million deal with Intelsat to develop and expand its 16-satellite constellation by 2021.
Nov. 14: LeoSat, broadband satellite startup, shuts down after it was unable to acquire $3 billion investor funding for proposed broadband satellite constellation.
Capitol Hill Updates
In late October, the White House OMB criticized Senate Appropriators for underfunding in the Commerce – Justice – Science (CJS) bill for lunar exploration, spectrum interference study and Europa Clipper.
On Wednesday, Nov. 13, NASA Authorization Bill was approved by the Senate with a voice vote.
Also on Nov. 13, Rep. Adam Smith (D-WA), HASC Chairman, expressed doubts final NDAA bill will include Space Force language, as it is a contentious issue. He further added it is unlikely for the House to support SASC's proposed "skinny NDAA."
In the afternoon, House Science Committee held a hearing on structuring a successful Moon to Mars program where Lt. Gen. Thomas P. Stafford and A. Thomas Young emphasized "augmented" leadership, clear budget and objectives are critical for success.
Wednesday, Nov. 6
Senate Commerce Hearing: Building the Space Workforce of the Future: STEM Engagement for a 21st Century Education
The panelists at the Hearing convened by Subcommittee Chairman Ted Cruz (R-TX) were Shella Condino, (Physics Teacher, Oakton High School); Dr. Josh Gladden (Vice Chancellor of Research, University of Mississippi); Jeffrey Manber (CEO, Nanoracks); Dr. Linda Tarbox Elkins-Tanton (Managing Director, Interplanetary Initiative and Principal Investigator of NASA Psyche Mission, Arizona State University).
Dr. Elkins-Tanton suggested education needs to be future- and work-force oriented, not industrial era style. Partnerships need to grow between Universities, NASA, and the private sector to accelerate innovation.
Both Sen. Sinema (D-AZ) and Dr. Elkins-Tanton (NASA Psyche) agreed that universities working with NASA will help cut costs and meet schedules but also give students real space training. Condino emphasized that rocketry programs in partnership with NASA sending payloads into space are special to students but participation in these programs is challenging (travel budgets).
The witnesses and Members discussed the NASA Space Grant program as a great opportunity for students (Dr. Gladden) that is being restored by the NASA Authorization Act.
Tuesday, Nov. 12
Space Foundation co-sponsored GPS Tech Day on Capitol Hill showcasing the latest technologies
On Nov. 12, the Space Foundation collaborated with GPS Innovation Alliance, CompTIA's Space Enterprise Council, Aerospace Industries Association and House GPS Caucus to host the GPS Tech Day at the Rayburn Foyer.
In attendance were Reps. Dave Loebsack (D-IA), Don Bacon (R-NE), Anna Eshoo (D-CA), Ron Estes (R-KS), Michael Bost (R-IL), and Doug Lamborn (D-CO). Members spoke on the importance of GPS in their districts in terms of job creation, impacts on innovation, and everyday use.
Exhibitors including John Deere, Trimble, Collins Aerospace, and L3Harris showcased their latest wearable and high-precision technology to more than 100 Congressional staffers.
Wednesday, Nov. 13
House Science Committee Hearing: "Keeping our sights on Mars Part 2: Structuring a Moon – Mars Program for Success"
The witnesses were Lt. Gen. Thomas P. Stafford, Chairman, NASA ISS Advisory Committee, Pilot/Cdr. Gemini 6, 9, Apollo 10; and A. Thomas Young, Former Director of NASA Goddard, former President and COO Martin Marietta Corp. Members were skeptical of 2024 and prospects of securing funding.
Young favored a Moon to Mars approach with strong NASA leadership and emphasized a clear objective and detailed budget are needed. Some programs may be eliminated to ensure schedule success. There is no role of Gateway in lunar program but a role for habitat testing for Mars activity.
Both the witnesses stressed "augmented" leadership and funding are required, otherwise even 2028 is not achievable.
Rep. Perlmutter (D-CO) showed his Mars 2033 sticker, urging appropriators to fund NASA. Rep. Babin (R-TX) further notes chances of getting Fy2020 funding are "dwindling."
Lt. Gen. Stafford agreed too many operations would be complex and decrease the probability for success when asked by Ranking Member Lucas (R-OK) if multiple orbit rendezvous affect safety and risk. Should human landing systems launch on SLS?
Both witnesses agreed support for the program is strong but "actions have been pending." Admin. Bridenstine engages often with the public and Vice President Pence's speech was six months ago but there needs to be a sense of urgency
Friday, Nov. 15
Mitchell Institute for Aerospace Studies briefing: Maj. Gen Whiting discussed the importance of international, interagency, and commercial cooperation in the space operations mission
The Mitchell Institute hosted Maj. Gen Stephen Whiting, USAF – Commander, 14th Air Force, Air Force Space Command, and Deputy Joint Force Space Component Commander, U.S. Strategic Command. He noted that for the space domain awareness endeavor to "go far" we must "go together." 
Gen. Whiting stated that we don't defend space for space's sake, but so that space assets can deliver crucial space effects to the warfighter. In Syria, for example, space effects allow U.S. forces to operate in close proximity to a strategic near-peer competitor in an active war zone.
He emphasized the importance of increased international cooperation in the space mission. For example, the United Kingdom is joining Operation Olympic Defender: the U.S. effort to increase deterrence in space. Gen. Whiting added that France and Germany will soon be embedding liaison officers in Vandenberg. Additionally, Japan is looking to expand their space operational center and are collaborating on a shared SSA payload to increase Space Domain Awareness in the Indo-Pacific region.
Within the U.S., the Department of Commerce has embedded a staffer at Vandenberg to understand the SSA responsibilities currently held by the DoD. DoD is also planning more deliberate coordination with the Intelligence Community. Silent Barker is an example of joint collaboration between the NRO and the Air Force to establish a future SSA architecture. The Combined Space Operations Center also features a Commercial Integration Cell (CIC), consisting of eight commercial entities with on-orbit assets to allow for effective coordination with the U.S. government.
Legislation Corner
Resolution to Reinforce U.S. leadership in Peaceful Use of Space & Technology Innovation
Senators Tom Udall (D-NM) and Tim Kaine (D-VA) introduced a resolution to maintain U.S. leadership in protecting satellites and spacecraft in Earth's orbit from space debris and ensuring that all nationals cooperate to promote the peaceful use of space for research and commercial purposes.
In the press release, Sen. Udall said: "Peaceful and safe innovation in space is a foundation of today's interconnected world – and necessary for our future security and prosperity."
NASA Authorization Act of 2019
Announced by Senators Cruz (R-TX), Wicker (R-MS), Sinema (D-AZ) and Cantwell (D-WA)
Approved by a voice vote in the Senate on Wednesday, Nov. 13.
The bill would authorize NASA to spend $22.75 in FY2020, extend ISS to 2030 (Sec.209), support STEM education and workforce efforts through the National Space Grant College and NASA National Programs with partnership with other organizations.
Click here to read Senator Ted Cruz's (R-TX) statement.
Commerce, Justice, Science, Agriculture, Rural Development, Food and Drug Administration, Interior, Environment, Military Construction, Veterans Affairs, Transportation, and Housing and Urban Development Appropriations Act, 2020 (H.R. 3055)
Science-related agencies including NASA are funded in the minibus.
On 10/30/2019, Cloture invoked in Senate by Yea – Nay vote. 88-5.
STEM Opportunities Act of 2019 (H.R. 2528/S.2579)
The bill would direct the Director of the Office of Science and Technology Policy to ensure that Federal science agencies and institutions of higher education receiving Federal research and development funding are engaging their entire talent pool, and for other purposes.
Read twice and referred to the Committee on Health, Education, Labor, and Pensions.
Sponsored by Sen. Mazie Hirono (D-HI)
SELF Act of 2019 (H.R. 4626)
The bill would establish a grant program to support the development, implementation and evaluation of successful teacher and school leader training programs.
Referred to House Committee on Education and Labor on 10/08/2019
Sponsored by Rep. Tim Ryan (D-OH-13)
Keep STEM Talent Act of 2019 (H.R. 4623)
The bill would provide lawful permanent resident status for certain advanced STEM degree holders
Referred to the House Committee on Judiciary on 10/08/2019
Sponsored by Rep. Bill Foster (D-IL-11)
Women and Minorities in STEM Booster Act of 2019 (H.R. 4528/ S.2578)
The bill would increase the participation of historically underrepresented groups in STEM
Referred to the House Committee on Science, Space and Technology on 09/26/2019
Sponsored by Rep. Carolyn Maloney (D-NY-12)/ Sen. Mazie Hirono (D-HI)
Hidden Figures Congressional Gold Medal Act (H.R. 1396)
On 10/29/2019, the bill was presented to the President and signed into law.
Sponsored by Rep. Eddie Bernice Johnson (D-TX-30)
Upcoming Events
Nov. 18 – Conversation with General Raymond at CSIS Aerospace on standup of USSPACECOM
General Raymond, Commander of U.S. Space Command and Commander of the Air Force Space Command, will deliver remarks and future plans for growing and developing the command.
The event will be from 8:30 – 9:30 a.m., CSIS Headquarters.
Dec. 9 – Artemis Day at Michoud Assembly Facility to view SLS Core Stage
There will be an industry reception for Members of Congress, state and local officials to view the completed Space Launch System Core Stage for Artemis I. Artemis Day will be an all-day event with numerous panels and exhibits for attendees.
The event will be at Michoud Assembly Facility in New Orleans, LA from 7:00 AM – 11:00 a.m.
---
Posted in Discover Space