Discover Space
---
Nominations Open for the New Generation National Security Scholarship Recognizing Former Space Foundation Board Chairman, Admiral James O. Ellis, Jr.
Written by: Space Foundation Editorial Team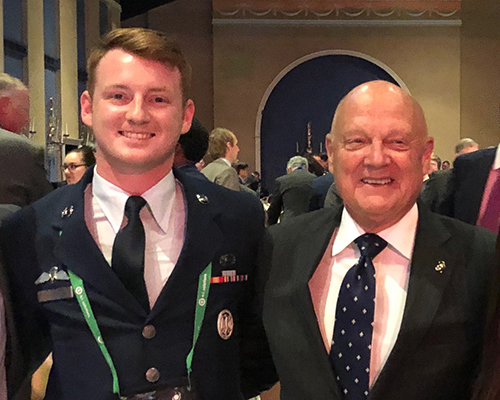 Admiral James O. Ellis, Jr., with 2019 recipient Sgt. Patrick Harper, USAF, at the 35th Space Symposium
COLORADO SPRINGS, Colo. (Nov. 21, 2019) – Upon completion of his term in 2017, the Space Foundation established a special scholarship recognizing former Board Chairman Admiral James O. Ellis, Jr.'s, commitment and support of New Generation leaders and Space Foundation programs. The scholarship, named the Admiral James O. Ellis, Jr., New Generation National Security Scholarship, is now accepting nominations.
This scholarship, presented annually, provides a uniformed, young professional member of the United States Armed Forces full participation in events at the Space Foundation's 36th Space Symposium, including its New Generation program and a seat at the Space Classified session.
The scholarship is intended to foster the participation of New Generation professionals in the Space Classified program at the Space Symposium; recognize an exceptional young professional and provide that individual a unique opportunity for further professional growth and development.
"The opportunity to attend the 35th Space Symposium that the Ellis Scholarship granted me was truly incredible," said Sgt Patrick Harper, USAF, 2019 recipient of the scholarship. "I was placed in the company of men and women who are truly legends in the world of Defense and Space Exploration. The chance to pick their brains and hear them speak about their ideas and perspectives was truly enlightening. I was able to vastly expand a network of friends and contacts throughout the industry and the world! It was an absolute honor and a delight to receive this scholarship, and to interact with the high caliber people who are in this industry. I highly recommend applying for this scholarship to anyone and everyone who is looking to be a part of such unique and brilliant community."
Nominations for the Admiral Ellis Scholarship are now open and will be accepted until Friday, Jan. 9, 2020. Criteria for the 2020 scholarship are:
Uniformed U.S. Armed Forces member
Nomination from commander
Active TS/SCI clearance
New Gen age, 35 years or younger
Nominations should be submitted by a service member's immediate supervisor, including a one-page nomination letter, and sent to: [email protected].
A selection committee will process the applications and the recipient announced by early February 2020.
The scholarship winner will receive:
Full registration for the 36th Space Symposium, to be held March 30 – April 2, 2020, at The Broadmoor in Colorado Springs, Colo., to include New Gen program registration
A seat at the Space Classified session, to be held Wednesday, April 1, 2020
Seating at the Space Foundation Board of Directors table at dining functions during the Space Symposium
About Admiral James O. Ellis, Jr., USN (Ret.)
A former Commander of United States Strategic Command, Ellis is currently Chairman of the Users' Advisory Group to the National Space Council and is an Annenberg Distinguished Fellow at the Hoover Institution, Stanford University. Previously, he was President and Chief Executive Officer, Institute of Nuclear Power Operations (INPO). Ellis was elected to the Space Foundation Board of Directors in January 2010, and served as Chairman from January 2016 through November 2017.
About New Generation Space Leaders
Founded in 2008, the Space Foundation's New Generation Space Leaders program (New Gen) targets aerospace professionals age 35 and younger. The program fosters meaningful, long-term peer relationships by providing access to top space leaders through program opportunities at the Space Symposium and throughout the year. The goal is to fuel the future for young professionals and be the driving force to help launch their careers. Learn more at www.spacefoundation.org/what-we-do/new-generation/.
About the Space Foundation
Founded in 1983, the Space Foundation is a 501(c)(3) nonprofit and the world's premier organization to inspire, educate, connect, and advocate on behalf of the global space community. It is a leader in space awareness activities, educational programs, and major industry events, including the annual Space Symposium. Space Foundation headquarters is in Colorado Springs, Colo., USA, and has a public Discovery Center, including El Pomar Space Gallery, Northrop Grumman Science Center featuring Science On a Sphere®, and the Lockheed Martin Space Education Center. The Space Foundation has a Washington, D.C., office, as well as field representatives in Houston and on the Florida Space Coast. It publishes The Space Report: The Authoritative Guide to Global Space Activity, and through its Space Certification™ and Space Technology Hall of Fame® programs, recognizes space-based innovations that have been adapted to improve life on Earth. Visit both websites — www.SpaceFoundation.org and DiscoverSpace.org — and follow on Facebook, Twitter, Instagram, LinkedIn, and YouTube.
# # #
Space Foundation Contact:
Colleen Kiernan, Manager – Social Media & Public Relations 
[email protected]
---
Posted in Discover Space