Space Foundation Press Releases
---
Global Space Economy Grows in 2019 to $423.8 Billion, The Space Report 2020 Q2 Analysis Shows
Written by: Space Foundation Editorial Team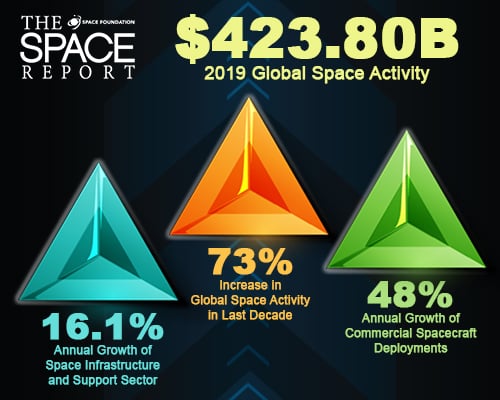 Combined Activity in Government Spending and Commercial Revenue Has Jumped 73% in the Last Decade, According to Newest Analysis from Space Foundation
COLORADO SPRINGS, Colo. (July 30, 2020) — The global space economy in 2019 grew more than $9 billion over the previous year, reaching $423.8 billion, according to new findings published by Space Foundation's 2020 second-quarter issue of The Space Report.
Economic analysis also found:
The growth represents a 2.2% increase from the 2018 global space economy, which was estimated at $414.75 billion.
Commercial revenue climbed to $336.89 billion in 2019, up 6.3% from $328.86 billion in 2018.
Space products and services, a sector of commercial space revenue, totaled $217.72 billion, easing up 1.7% from 2018's $214.18 billion.
Space infrastructure and support industries, the other main commercial sector, climbed to $119.17 billion — a 16.1% increase over 2018's $102.66 billion, and marking the first time since 2016 that the sector exceeded the $100-billion mark.
For more than a decade, The Space Report has been widely recognized as the definitive body of information about the global space industry. It contains worldwide space research and data relating to the industry's economy, infrastructure, and workforce, and also details the diverse benefits of space exploration. The report is a resource for government and business leaders, educators, financial analysts, students, space-related companies, and media.
Among the other findings released in The Space Report 2020, Q2 issue:
Despite the global pandemic, launches for the first half of 2020 — from January 1 to June 30 — were on par with previous years. The 41 successful launches were slightly below the five-year average of successful launches, which was 43.2.
In 2019, the European space workforce included an estimated 47,895 employees working on design, development, and manufacturing of space assets. This is 6.2% larger than 2018, and triple the annual increase compared to the U.S., which showed an annual workforce gain of 2%.
In 12 North American Industry Classification System (NAICS) codes that have some broad affiliation with the space industry, U.S. job losses from December 2019 to May 2020 totaled 241,600, according to data from the U.S. Bureau of Labor Statistics. Two NAICS codes more specific to the space industry — Guided Missiles, Space Vehicles and Parts (NAICS Codes 336414,5,9) and Search, Detection and Navigation Instruments (NAICS Code 334511) — have grown by 1,400 jobs during the same time.
Global spacecraft on commercial missions increased 48% year over year, jumping to 251 in 2019, compared to 170 in 2018.
Space Foundation's Research & Analysis team produces The Space Report quarterly to provide regular updates on global space activity.
The Space Report is available for purchase by the public for $250 per quarter or $499 for all four quarters at www.thespacereport.org/pricing. The full PDF is also available to subscribers of The Space Report Online. The online subscription also provides members with searchable access to all the research conducted for The Space Report since 2005.
Media interested in purchasing The Space Report should contact Space Foundation at [email protected] for a discount code that will allow you to receive all four quarters for $99 annually.
About Space Foundation
Headquartered in Colorado Springs, Colorado, Space Foundation is a 501(c)(3) nonprofit, and the world's premier organization dedicated to inspiring, educating, connecting, and advocating on behalf of the global space community. Through its newly established Center for Innovation and Education, Space Foundation works with a diverse spectrum of public and private sector partners and donors to drive workforce development and economic opportunity so every generation can find their place in the space economy. Best known for its annual Space Symposium, attended by 15,000 space professionals from around the world, Space Foundation also publishes The Space Report, its quarterly authoritative guide to research and analysis of the space industry, and through its Space Certification™ and Space Technology Hall of Fame® programs, recognizes space-based innovations that have been adapted to improve life on Earth. At Space Foundation's Discovery Center an array of dynamic on-site and online space-inspired educational programming is available for teachers, parents, students, and to the general public to prepare them for their own space futures. Visit Space Foundation at www.SpaceFoundation.org, and follow us on Facebook, Twitter, Instagram, LinkedIn, and YouTube.
###
Space Foundation contact:
Rich Cooper
Vice President, Strategic Communications & Outreach
Space Foundation
[email protected]
[email protected]
---
Posted in Space Foundation Press Releases