Discover Space
---
Space Foundation to Celebrate 20th Annual World Space Week with Lineup of Virtual and In-Person Events
Written by: Space Foundation Editorial Team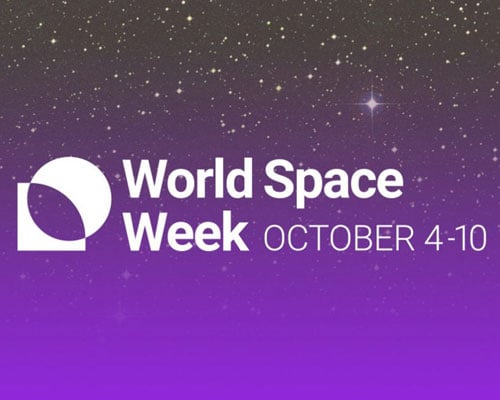 Multiple daily events to begin Monday, Oct. 5, and extend through Oct. 10
Culminates with "Space Unites" live event featuring key space influencers
Free space posters for every Discovery Center visitor during the week
COLORADO SPRINGS, Colo. — Sept. 29, 2020 — As many astronauts who have been to space can attest, seeing the Earth without borders instills a new perspective on humanity. Space truly does unite us all — both in the cosmos and here on Earth. From the harmony between nations working aboard the International Space Station to the adapted space technologies that facilitate daily communications and improve life for us all, mankind's quest to explore space has continued to be a unifying force.
In that spirit, and in celebration of World Space Week (Oct. 4–10), Space Foundation, a 501(c)(3) global space advocate for 37 years, will present a weeklong series of virtual and in-person events under the banner "Space Unites." Programming will be inclusive to all — families, students, young professionals, and anyone else with an appreciation for how the pursuit of space has benefited humanity.
In announcing the full week of programming, Space Foundation CEO Tom Zelibor shared, "Space access and opportunity are created by imagination, ingenuity, and collaboration of daring and like-minded people. We will celebrate the full spectrum of those possibilities during World Space Week and show there is space for everyone within this expanding and adventurous global community. That's part of our mission at Space Foundation."
Highlights throughout World Space Week will include the following:
"Audience with an Astronaut" featuring former NASA astronaut Duane "Digger" Carey
10-year-old author James Collier III reading his space-themed anti-bullying comic
"Drone soccer" competitions
"Technology of Satellites" and "Galactic Farming" programs
Virtual induction ceremony for the Space Technology Hall of Fame's 2020 class
Live "Space Unites" virtual event featuring top-tier space influencers
See discoverspace.org/events/world-space-week/ for a complete schedule of the events planned.
As a fundraiser for the space education programs that Space Foundation Discovery Center provides both virtually and on-site to families throughout the year, the climactic "Space Unites" virtual event will feature:
Visit discoverspace.org/event/space-united/ for more information about this special event.
In addition to celebrating World Space Week, Space Foundation Discovery Center will also be celebrating eight years of providing interactive space exploration exhibits and STEM education activities to the Colorado Springs community on Saturday, Oct. 10, by hosting a day filled with fun virtual and in-person activities.
Propelling humanity forward into the future, space connects us all and sparks life-changing advancements  here on Earth. Join Space Foundation for the week of Oct. 4–10 to learn why and how space truly is the place for everyone.
About World Space Week
Annually, from Oct. 4–10, space enthusiasts from around the globe gather to celebrate World Space Week. Now in its 20th year, the occasion is celebrated internationally to draw attention to the benefits of space exploration and to honor the contributions it has made to our lives on Earth. Since its inception in 1999, and first celebration in 2000, the occasion has grown to become the largest annual space event in the world — celebrated with over 8,000 events in 96 countries last year alone.
About Space Foundation Discovery Center
Located only five minutes from Garden of the Gods Park, at 4425 Arrowswest Drive in Colorado Springs, Space Foundation Discovery Center is the region's only space, science, and technology attraction. Visitor hours are from 10 a.m. to 4 p.m., Tuesday through Saturday. For admission pricing and other information, visit www.discoverspace.org, or call (719) 576-8000. Follow Space Foundation Discovery Center on Facebook and Twitter for additional related content and upcoming events.
About Space Foundation
Space Foundation is a 501(c)(3) nonprofit advocate for the global space community. Through a partnership model, its Center for Innovation and Education unites the entire spectrum of global stakeholders, including public and private businesses, government agencies, educational institutions, and local communities, to serve the entire life cycle of the workforce, from students and young leaders to entrepreneurs and professionals. Best known for its annual Space Symposium, attended by 15,000 space professionals from around the world, Space Foundation also publishes The Space Report, its quarterly authoritative guide to research and analysis of the space industry. Headquartered in Colorado Springs, Colo., Space Foundation's Discovery Center offers rich programming on-site and online for teachers, parents and students. Visit Space Foundation at www.SpaceFoundation.org, and follow us on Facebook, Twitter, Instagram, LinkedIn, and YouTube.
###
All brand names and product names are trademarks or registered trademarks of their respective companies.
Tags: Space Foundation, Space Foundation Discovery Center, World Space Week 2020, WSW2020, space technology, space innovation
Media Contact:
Rich Cooper
Vice President, Strategic Communications & Outreach
Space Foundation
(202) 596-0714
[email protected]
[email protected]
---
Posted in Discover Space