Space Policy
---
Space Policy Pod – Episode 11: (Conner Prochaska, Department of Energy)
Written by: Space Foundation Editorial Team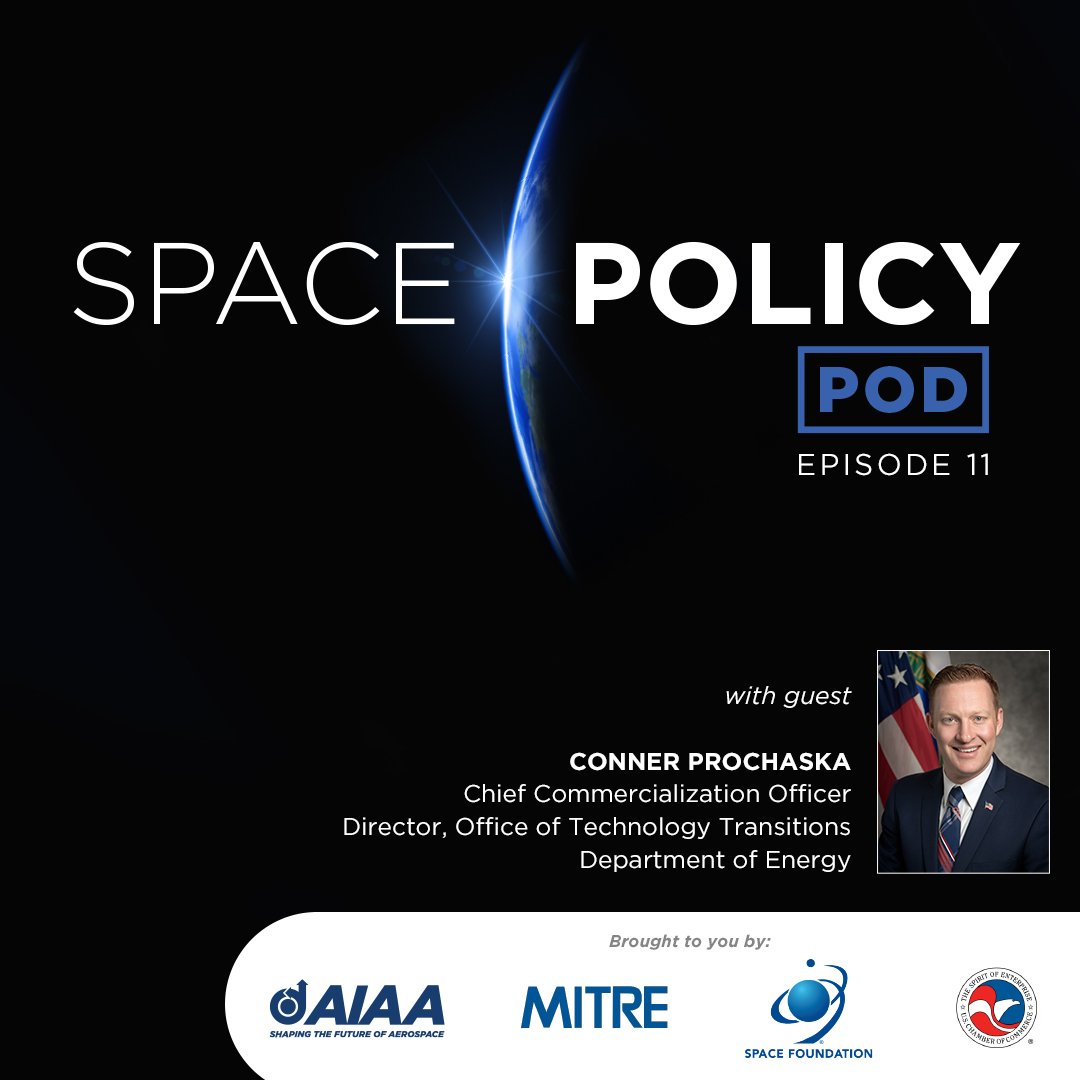 This podcast discussion features Conner Prochaska, chief commercialization officer for the Department of Energy and director of the Office of Technology Transitions. His office advances the economic, energy, and national security interests of the United States by expanding the commercial impact of the department's research and development portfolio.
Prior to his current roles, Mr. Prochaska was senior advisor and chief of staff of the Advanced Research Projects Agency-Energy (ARPA-E). He previously worked at a public investment fund and also served as an Intelligence Officer in the United States Navy.
Mr. Prochaska earned his J.D. at The George Washington University School of Law and his B.A. at Texas A&M University.
---
Episode 11 Conner Prochaska
30 September 2020
Chief Commercialization Officer, Department of Energy & Director, Office of Technology Transitions
Key Takeaways
Overview of the Department of Energy (DOE) and its efforts in advancing the space economy
Mr. Prochaska provided an overview of the Department's facilities such as national labs and the history of the Department since the Manhattan project. The Department tackles large and small problems across the country ("Department of Everything") and is supporting NASA in going to Mars ("Department of Exploration"). Mr. Prochaska's role at the Office of Technology Transition involves working on policy access to researchers.
Department of Energy as a Member of the National Space Council
Mr. Prochaska discussed re-joining the National Space Council and outlined key historic contributions from DOE such as national labs collaboration for Voyager. In order to go to Mars, there needs to be a whole of government approach and clear cooperation. Mr. Prochaska mentioned his role in sharing visions and engaging with Department of Commerce's Office of Space Commerce and building relationships with industries involved in Low Earth Orbit commercialization. Not exclusive to the Commerce Department, but the whole of government approach also involves collaborating with Department of State and assisting NASA portfolios with Department of Energy's research.
Evolving partnership with NASA and supporting Artemis
Mr. Prochaska provided details about the technologies the Department of Energy can provide to NASA such as nuclear propulsion, advanced manufacturing (both large scale and nano 3D printing), and mining capabilities. Mr. Prochaska discussed current Plutonium 238 production and the Department's expertise in protecting people and technology in harsh environments. He further emphasized the Department's previous experience in the human genome project and use of supercomputers that can provide NASA with the health sciences tools for future missions.
Department of Energy's technology priorities
The Department of Energy's roadmap is important to envision how new technologies will be utilized effectively in different ways and thinking ahead is crucial in developing new technologies. Mr. Prochaska discussed current applied research happening at the Department and areas of interest such as quantum technology, artificial intelligence, and energy storage that can be used for space travel and other purposes.
---
Posted in Space Policy