Discover Space
---
Space Foundation and U.S. Drone Soccer League to Host Limited-Time Exhibition Allowing Visitors to Play New Robotic Sport
Written by: Space Foundation Editorial Team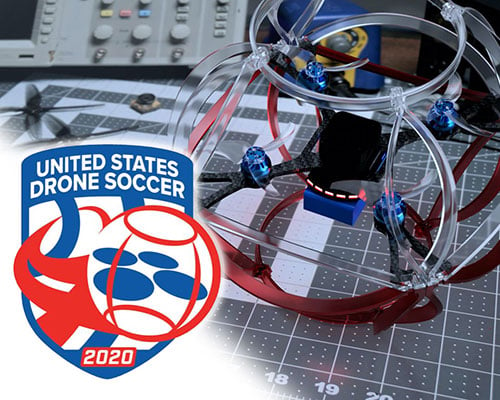 Played using encased quadcopters, a full-contact robotic sport
Inspires teamwork, sparks engineering and aerospace interests
"Everyone who sees it immediately wants to play" says league cofounder
Open to attendee participation Oct. 6–17, special competition on Oct. 17
COLORADO SPRINGS, Colo. — Oct. 5, 2020 — What do you get when you combine the rapidly expanding world of unmanned aerial vehicles (UAV)/drones, a nod to the Harry Potter series, and the most popular sport in the world? A bit of robotics education, some exciting midair collisions, and loads of fun. Space Foundation, a 501(c)(3) global space advocate for 37 years, and the U.S. Drone Soccer league will debut a temporary exhibit — a drone soccer indoor arena — at Space Foundation Discovery Center during its World Space Week activities. The exhibition will allow attendees to take control and participate in this new sport Oct. 6–17, concluding with a special live and virtual competition featuring top drone pilots on Oct. 17.
In describing this new exhibit, Kevin Orangers, Executive Director of Space Foundation Discovery Center said, "New technologies come alive when people can see, touch, and experience them firsthand. Drones are changing the way we interact with the environment around us, and this exhibit and the Oct. 17 drone soccer match will allow everyone to have a true hands-on experience."
Drone soccer is a fast-growing robotic sport played with flying quadcopters enclosed in protective spheres, with some similarities to its namesake sport and the fictional game of Quidditch portrayed in J.K. Rowling's Harry Potter stories. The objective of drone soccer is for competitors to score by flying through raised vertical hoops while dodging or blocking opponents.
"The game is difficult to describe, but everyone who sees it immediately wants to play," said Kyle Sanders, U.S. Drone Soccer cofounder and former U.S. Air Force pilot. "We believe that drone soccer creates an exciting team environment that inspires students to pursue engineering and aerospace careers."
Robotic sports such as first-person view (FPV) drone racing have exploded in popularity recently, including a Drone Racing League on ESPN. As a new sport, drone soccer represents an evolution from solo events of this type to team sports. Drone soccer has become a phenomenon in South Korea, with over 600 teams competing and international events already taking place.
The U.S. Drone Soccer League has also dedicated themselves to expanding educational access, with plans to eventually release middle- and high-school curriculum based on Next Generation Science Standards. Come see what all the "buzz" is about, learn more about drones, and test your competitive mettle from Oct. 6–17 at Space Foundation Discovery Center.
About Space Foundation Discovery Center
Located only five minutes from Garden of the Gods Park, at 4425 Arrowswest Drive in Colorado Springs, Colo., Space Foundation Discovery Center is the region's only space, science, and technology attraction. Visitor hours are from 10 a.m. to 4 p.m., Tuesday through Saturday. For admission pricing and other information, visit www.discoverspace.org or call (719) 576-8000. Follow Space Foundation Discovery Center on Facebook and Twitter for additional related content and upcoming events.
About Space Foundation
Space Foundation is a 501(c)(3) nonprofit advocate for the global space community. Through a partnership model, its Center for Innovation and Education unites the entire spectrum of global stakeholders, including public and private businesses, government agencies, educational institutions, and local communities, to serve the entire life cycle of the workforce, from students and young leaders to entrepreneurs and professionals. Best known for its annual Space Symposium and now the digital Space Symposium 365, Space Foundation also publishes The Space Report, its quarterly authoritative guide to research and analysis of the space industry. Headquartered in Colorado Springs, Colo., Space Foundation's Discovery Center offers rich programming on-site and online for teachers, parents, and students. Visit Space Foundation at www.SpaceFoundation.org, and follow us on Facebook, Twitter, Instagram, LinkedIn, and YouTube.
About U.S. Drone Soccer
The U.S. Drone Soccer League is a national community of participating schools (grades 6–12) and community organizations that provide high-engagement exploration of science, technology, engineering, and mathematics (STEM). Lessons and competitions emphasize hands-on learning with aerospace engineering, computer programming, and aviation. New test leagues are forming now in several North American cities including a permanent installation at the Mall of America in Bloomington, Minn. School starter kits will be released in early 2021, and interested coaches, referees, and pilots can receive early access to prototypes by visiting https://dronesoccer.us/ and Facebook, Instagram, Twitter, or LinkedIn.
###
All brand names and product names are trademarks or registered trademarks of their respective companies.
Tags: Space Foundation, Space Foundation Discovery Center, U.S. Drone Soccer, drone soccer, UAV, unmanned aerial vehicles, drones, robotic sports
Media Contacts:
Rich Cooper
Vice President, Strategic Communications & Outreach
Space Foundation
(202) 596-0714
[email protected]
[email protected]
David Roberts
U.S. Drone Soccer
(678) 642-3023
[email protected]
---
Posted in Discover Space