Uncategorized
---
Volunteer Spotlight: Steve Edelman
Written by: Space Foundation Editorial Team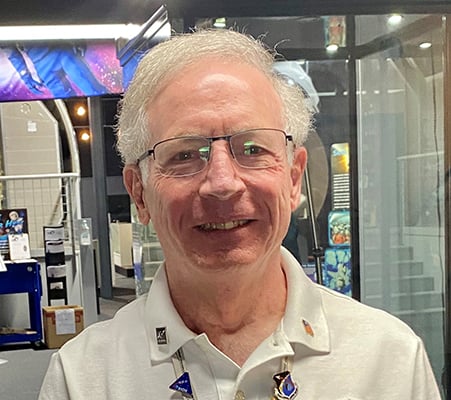 These Volunteer Spotlight articles profile some of the interesting and dedicated people who make Space Foundation programs possible. We could not do the work that we do without the generous and tireless support of our volunteers. This week, we are featuring Space Foundation volunteer Steve Edelman.
Edelman is originally from Rockville Centre, New York, and graduated from the United States Air Force Academy where he earned a Bachelor of Science in Astronautical Engineering. Following that he was active duty U.S. Air Force from 1969–1990, retiring as Lieutenant Colonel. After his military retirement, he was a Systems Engineer, first at Geodynamics Corporation from 1990–1994, and later with TASC/Litton/Northrop Grumman from 1994–2015.
Steve enjoys spending time with his wife of almost 51 years, his two sons, and two grandchildren. His other personal interests include traveling (he can claim to have set foot on all seven continents), playing music as a member of the Colorado Springs Canon Winds community concert band, and working as a tutor and classroom aide for the United States Air Force Academy Prep School's Math Department.
At Space Foundation, he volunteers as both a docent in the Discovery Center, and with the Research and Analysis team as a technical editor for The Space Report, for which early next year Steve will also become a contributing writer.
If you are interested in becoming a Space Foundation/Space Foundation Discovery Center volunteer, please reach out to Jennifer Walters, Volunteer Program Manager, at [email protected]
---
Posted in Uncategorized