Space Foundation News
---
Space Foundation Announces Addition of Frank Culbertson to Its Board of Directors
Written by: Space Foundation Editorial Team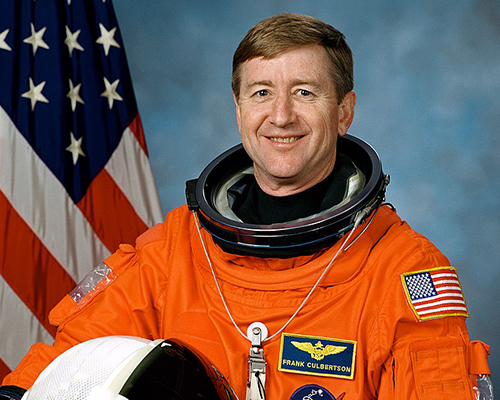 COLORADO SPRINGS, Colo. — Dec. 14, 2020 — Space Foundation, a 501(c)(3) global space advocate for 37 years, today announced a new at-large member to its board of directors. Retired aerospace executive, NASA astronaut, and U.S. Navy officer, Frank Culbertson, Jr., has been appointed to a three-year term beginning Oct. 30, 2020.
In announcing Culbertson's appointment, Space Foundation CEO Tom Zelibor shared, "The addition of Frank Culbertson to our board brings unparalleled experience to Space Foundation. His distinguished leadership in military, civilian, international, and commercial space arenas brings tremendous insight to our organization as we seek new partnerships and opportunities with the expanding global space community. We are incredibly fortunate to have Frank's talent on our team."
Frank Lee Culbertson Jr. (CAPT, USN, Ret.) is a former U.S. Naval Officer and aviator, test pilot, aerospace engineer, NASA astronaut, and a graduate of the U.S. Naval Academy. He served as the Commander of the International Space Station (ISS) for nearly four months in 2001, and he was the only U.S. citizen not on Earth when the September 11, 2001 attacks occurred.
He recently retired as President of the Space Systems Group at Northrop Grumman Innovation Systems. Culbertson was responsible for the execution, business development, and financial performance of the company's human spaceflight, science, commercial communications, and national security satellite activities, as well as technical services to various government customers. These services include some of Northrop Grumman's largest and most important programs, such as NASA's Commercial Resupply Services (CRS) initiatives to the ISS, as well as various national security-related programs.
A veteran of three spaceflights, Culbertson has logged more than 144 days in space as a part of missions STS-38 (Shuttle Atlantis/Nov. 1990), STS-51 (Shuttle Discovery/Sept. 1993), and as a member of the ISS Expedition III crew (which arrived aboard Shuttle Atlantis in Aug. 2001 and returned on mission STS-105 aboard Shuttle Discovery in Dec. 2001). He also served as Chief of the Astronaut Office Mission Support Branch, Chief of the Johnson Space Center Russian Projects Office, and Manager of the Shuttle-Mir Program.
Prior to being selected as a NASA astronaut in 1985, Culbertson served as a naval aviator with service in the Vietnam War, along with numerous other notable flight assignments, logging more than 9,500 hours of flying time in 60 different types of aircraft.
Complete information on Space Foundation's board of directors, executive committee, and leadership is available on the organization's website.
About Space Foundation
Space Foundation is a 501(c)(3) nonprofit advocate for the global space community. Through a partnership model, its Center for Innovation and Education unites the entire spectrum of global stakeholders, including public and private businesses, government agencies, educational institutions, and local communities, to serve the entire life cycle of the workforce, from students and young leaders to entrepreneurs and professionals. Best known for its annual Space Symposium, and now the digital Space Symposium 365, Space Foundation also publishes The Space Report, its quarterly authoritative guide to research and analysis of the space industry. Headquartered in Colorado Springs, Colo., Space Foundation's Discovery Center offers rich programming on-site and online for teachers, parents, and students. Visit Space Foundation at www.SpaceFoundation.org, and follow us on Facebook, Twitter, Instagram, LinkedIn, and YouTube.
###
All brand names and product names are trademarks or registered trademarks of their respective companies.
Tags: Space Foundation, board of directors, Frank Culbertson, space economy, space commerce, workforce development, space technology, space innovation
Media Contact:
Rich Cooper
Vice President, Strategic Communications & Outreach
Space Foundation
(202) 596-0714
[email protected]
[email protected]
---
Posted in Space Foundation News