Uncategorized
---
Volunteer Spotlight: Hannah Hermann
Written by: Space Foundation Editorial Team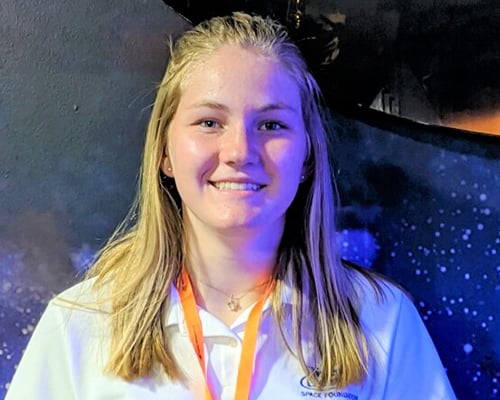 These Volunteer Spotlight articles profile some of the interesting and dedicated people who make Space Foundation programs possible. We could not do the work that we do without the generous and tireless support of our volunteers. This week, we are featuring Space Foundation Discovery Center volunteer Hannah Hermann.
Hannah is a junior at Palmer Ridge High School in Colorado Springs, where she is varsity captain of the field hockey team and plays on the golf team. She has also been a member of the school's basketball and track teams.
Hermann is a member of the National Honor Society, the student leadership program Link Crew, and the local Leo Club (youth organization of Lions Clubs International). She enjoys computer science and engineering and hopes to attend the Air Force Academy after graduation.
Hannah's hobbies include reading and watching sports. She's a fan of hockey and the Colorado Avalanche, and she also enjoys baseball and is a Colorado Rockies fan. She loves to visit National Parks and she has a bucket-list goal of visiting all of them in her lifetime.
Hermann has been a junior docent at Space Foundation Discovery Center for the last two summers, and her favorite exhibit is the Mars Robotics Laboratory because she loves driving the rovers, as well as showing children how to operate them.
If you are interested in becoming a Space Foundation/Space Foundation Discovery Center volunteer, please reach out to Jennifer Walters, Volunteer Program Manager, at [email protected]
---
Posted in Uncategorized