Public Policy and Government Affairs
---
Biweekly Washington, D.C., Update for the Week Ending May 7, 2021
Written by: Hanh Le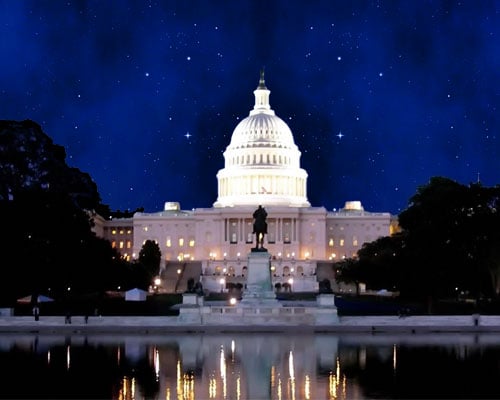 This week, Vice President Harris swore in former Senator Bill Nelson as the 14th NASA Administrator. The space community celebrated May the Fourth.
Register for the 36th Space Symposium in Colorado Springs this August
This year Space Symposium will be a hybrid event, providing both live programming for in-person attendees, as well as digital access for online participants.
Both offerings will deliver the quality Symposium experience that has been Space Foundation's signature for four decades.
Sign Up for Space Symposium 365
Register here to access key events and discussion with industry professionals, 365 days a year.
Upcoming panels and speakers:

May 7 – National Space Day with the U.S. Space Command
May 13 – Panel: Life in the Extreme: Fundamentals of Surviving
May 19 – Panel: The Space Beat: Today's Space Reporters Speak
Space Policy Updates
Former Senator Bill Nelson became NASA's 14th (SpaceNews, May 3)
Vice President Harris will chair the National Space Council with her "personal stamp" to focus on issues such as climate change and STEM education (SpaceNews, May 1)
Susie Perez Quinn will serve as NASA Chief of Staff, and Bhavya Lal will serve as the senior advisor for budget and finance at NASA. (NASA, May 5)
Senator Angus King (I-ME) outlined U.S. nuclear command, control and communications systems could be vulnerable to cyber-attacks. (SpaceNews, May 1)
House SST Chair, Rep. Don Beyer (D-VA), highlights Artemis, space situational awareness and passing a new NASA authorization bill as top priorities. (Spacepolicyonline, May 3)
China and Russia have formally invited countries to join the International Lunar Research Station project. (Global Times, April 24)
The Center for the Study of Presidency & Congress released a report on "Maintaining Momentum on National Security Space" (CSPC, May 5)
Space Industry Updates
Hearing
House Joint Subcommittee Hearing on Creating a Framework for Rules Based Order in Space
The witnesses were Lieutenant General Stephen Whiting, U.S. Space Force, Mr. John Hill, Department of Defense, Mr. Bruce Turner, Department of State, and Mr. Jonathan Moore, Department of State.
In his opening statement, Rep. Cooper (D-TN), chair of the Armed Forces Subcommittee, said that "space is in danger of becoming wild, wild west." and highlighted the importance of "space traffic management on the size of safety zones around satellites or capsules to ban debris, or to have compatible docking lodges."
Stephen Whiting said the Department of Defense supports shifting non-military space traffic management to the Department of Commerce, and such transition will take a few years.
Tanner highlighted that we need voluntary, non-binding norms as well as rules and principles of behavior in space, and these norms are the "best of what's possible, given this moment in time."
The witnesses raised the urgency of re-engaging with our partners to establish norms and rules. Rep. Seth Moulton (D-MA) however, expressed concerns that adversaries cannot be expected to abide by norms established.
A transcript of the hearing is available for viewing.
Key Figure in Space Spotlight: Frank Kendall
The Biden Administration nominated Frank Kendall III to serve as Secretary of the Air Force.
Kendall was previously a top acquisition official for the Obama administration, serving as the Under Secretary of Defense for Acquisition, Technology and Logistics (AT&L) (2012-2016). He led the Department of Defense's efforts to improve the defense acquisition enterprise's performance and was known for his signature effort, the "Better Buying Power" initiative.
Previously, he also was Vice President of Engineering for Raytheon and Managing partner at Renaissance Strategic Advisor.  Prior to that, he served as Director of the Tactic Warfare Programs in the Office of the Secretary of Defense and was Assistant Deputy Undersecretary for Strategic Defense Systems. Kendall was Aviation Week and Space Technology's Person of the Year in 2016 and has received additional awards such as the Defense Distinguished Public Service Awards and the Secretary of Defense Meritorious Civilian Service Medal.
Kendall graduated from the U.S. Military Academy at West Point and holds a Master's in aerospace engineering from the California Institute of Technology, along with a Master of Business Administration from Long Island University and a Juris Doctor from Georgetown University.
Further Reading
The Space Review | A Message of continuity from NASA's next administrator
By Jeff Foust
The author discussed former senator Bill Nelson's confirmation hearing and his vision for future of NASA.
Additional Space Foundation Resources
The latest Space4U Podcast episode features Tom Smokov & Craig Fairclough, Water Pure Technologies.
The Space Report (TSR) Q1 2021 is now available.
Online learning, lesson plans, and video lessons for students grades K–12 are available at the Discovery Center website.
Space Trivia
On May 5th, 1961, Alan Shepard became the first American in space aboard his Mercury capsule, Freedom 7. (NASA)
---
Posted in Public Policy and Government Affairs