Uncategorized
---
Volunteer Spotlight: Rebekah Shepherd
Written by: Space Foundation Editorial Team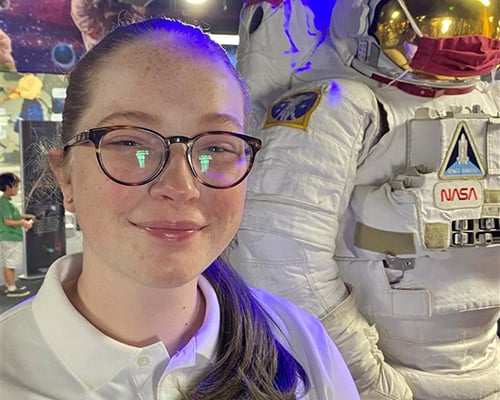 These Volunteer Spotlight articles profile some of the interesting and dedicated people who make Space Foundation programs possible. We could not do the work that we do without the generous and tireless support of our volunteers. This week, we are featuring Space Foundation Discovery Center volunteer Rebekah Shepherd.
Rebekah is currently an engineering student at the University of Colorado, Colorado Springs, and she has volunteered at Space Foundation Discovery Center for four years. Outside of school and volunteering, she's a space enthusiast and enjoys practicing martial arts.
She was born in Ohio but moved to Colorado when she was very young and has lived in the state for most of her life. She loves learning, as well as helping others learn.
If you are interested in becoming a Space Foundation/Space Foundation Discovery Center volunteer, please reach out to Jennifer Walters, Volunteer Program Manager, at [email protected]
---
Posted in Uncategorized