Space Foundation Press Releases
---
Space Foundation 12th Annual International Student Art Contest Now Open for Submissions
Written by: Space Foundation Editorial Team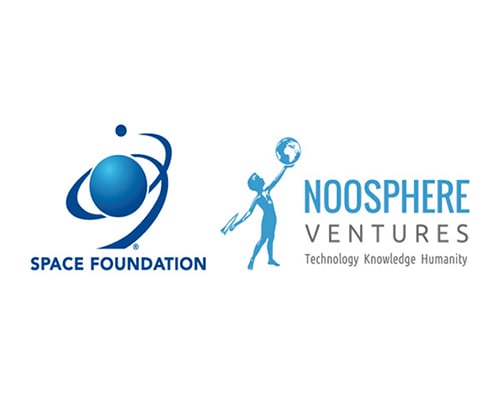 Contest Encourages Student Artists Worldwide to 'Shoot for the Moon'
2022 contest theme is "Living, Working and Playing on the Moon"
Student artists ages 3-18 are invited to enter
Entries due by Jan. 19, 2022, noon UTC
COLORADO SPRINGS, Colo. — Oct. 4, 2021 — Space Foundation, a nonprofit advocate organization founded in 1983 for the global space ecosystem, today announced the opening of the 12th Annual International Student Art Contest, with the support of Noosphere Venture Partners. Student artists from around the world, ages 3 to 18 years, are invited to create and submit original, space-oriented artwork. Participants may draw, paint or create a mixed media or digital work for the 2022 contest theme, "Living, Working and Playing on the Moon."
For over a decade, the Annual International Student Art Contest has inspired young people to use their creative gifts and curiosity to explore the wonders of space and the exciting possibilities in science, technology, engineering and mathematic (STEM) fields. The contest provides a chance for students to showcase their talents, and presents an opportunity for parents, teachers and communities to spark a love of STEM in young people through the lens of space.
"As different as each person and country may be, we all share the same space," said Shelli Brunswick, chief operating officer of Space Foundation. "In 2021, the Annual International Student Art Contest generated more than 4,500 entries from 36 U.S. states and 88 countries. With NASA and its Artemis Program partners working to take us to the Moon, we will all have an advanced preview of how the world's children see their future on the lunar surface."
Dr. Max Polyakov, the founder of co-sponsor Noosphere Venture Partners, said, "The Moon has been a muse to Earth's artists and scientists for thousands of years, but today's students may have the chance to even walk on it. We dedicate this year's contest to all the opportunities provided by Moon exploration and hope to inspire them to plant their own flags on the Earth's only natural satellite."
There will be 25 winners — first, second and third place for each of eight age categories, and one young artist will receive the Space Foundation Achievement Award. Winning artwork will be displayed and shared worldwide, including Space Foundation Headquarters and Discovery Center, Space Foundation and contest websites, various social media platforms, and the 37th Space Symposium to be held April 4-7, 2022, in Colorado Springs.
There is no cost to participate. The deadline to submit entries is noon Universal Time (12 UTC), Jan. 19, 2022. Artwork must be submitted online by the student's teacher, parent or legal guardian, age 18 and older.
To learn more and to submit entries, visit https://art.spacefoundation.org/.
About Noosphere Venture Partners LP
Noosphere Venture Partners LP is an international asset management firm with the strategic vision to transform high-potential companies into definitive market leaders. The company's mission is to change the landscape of the digital economy, and Noosphere invests in projects around the world that primarily are focused on space, consumer internet, advertising, and marketing technologies. About Noosphere Venture Partners: https://noosphereventures.com/ 
About Center for Innovation and Education
Center for Innovation and Education, a division of Space Foundation, is a lifelong learning platform for the global space ecosystem that offers workforce development and economic opportunity for students, teachers, entrepreneurs, and professionals via digital programming or live at Space Foundation Discovery Center in Colorado Springs, Colorado. Through its Workforce Development Roadmap, sponsored programs, and global collaborations, Center for Innovation and Education enhances the outlook and opportunities for new jobs, careers and new business ventures through its Space Commerce Entrepreneurship Programs, New Generation Young Professional Program, Professional Teacher Training, and Space-Inspired Curriculum. To learn more about Center for Innovation and Education, please visit www.spacefoundation.org/cie/, and visit www.discoverspace.org/ to learn more about Space Foundation Discovery Center.
About Space Foundation
Space Foundation is a nonprofit advocate organization founded in 1983, offering a gateway to information, education and collaboration for space exploration and space-inspired industries that define the global space ecosystem. Driven by a partnership model, Space Foundation operates three divisions that unite the entire spectrum of stakeholders — business, government, education and local communities — through corporate membership, sponsorship, fundraising and grants: Symposium 365 is the premier source for media and events, including the world-renowned Space Symposium and The Space Report. Center for Innovation and Education is a lifelong learning platform. Global Alliance facilitates collaboration around the world. Visit Space Foundation at www.SpaceFoundation.org, and follow us on Facebook, Twitter, Instagram, LinkedIn and YouTube.
###
All brand names and product names are trademarks or registered trademarks of their respective companies.
Tags: Space Foundation, Center for Innovation and Education, Space Symposium, Student Art Contest, STEM education, space ecosystem, space technology, space innovation, lifelong learning, student artist, Noosphere Venture Partners
Media Contacts:
Rich Cooper
Vice President, Strategic Communications & Outreach
Space Foundation
(202) 596-0714
[email protected]
Dottie O'Rourke
TECHMarket Communications
(650) 344-1260
[email protected]
---
Posted in Space Foundation Press Releases