Featured
---
Dr. Sally Ride — Physicist, Astronaut, Educator
Written by: Space Foundation Editorial Team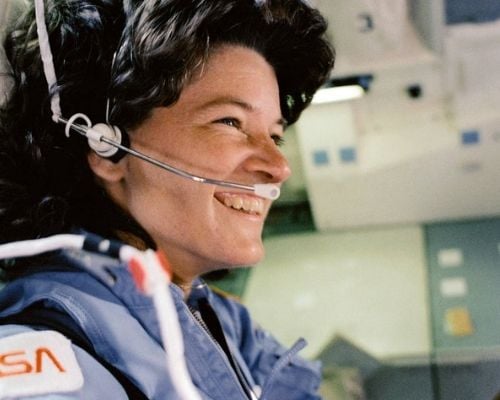 Dr. Sally Ride was a pioneer in space exploration, a physicist and a science educator. She shattered barriers throughout her remarkable and multi-faceted life, opening doors for others — especially young women in the U.S. and around the world.
Ride graduated from Stanford University with a double major in physics and English. At the time, she was one of only a few women majoring in physics. She continued at Stanford and was completing her Ph.D. in physics when she read in the student newspaper that NASA was looking for new astronauts, and for the first time, women could apply. This was the beginning of a remarkable career at NASA.
From more than 8,000 applicants, NASA chose 35 new astronaut candidates, including six women. After rigorous training, Ride was the first woman assigned to a space shuttle crew. When she blasted off aboard Challenger on June 18, 1983, she became the first American woman in space. She flew on Challenger again in 1984 and later was the only person to serve on both panels investigating the nation's space shuttle disasters — the Challenger explosion in 1986 and the Columbia disaster in 2003.
After retiring from NASA, Ride went on to become a physics professor at UC San Diego and an inspirational leader in science education. After her historic spaceflight, she had seen that her example was a powerful tool for inspiring young people, especially girls, in science. In 2001 she cofounded a science education company called Sally Ride Science. One of her goals was to make sure girls and boys of all backgrounds could see role models who looked like them. Today Sally Ride Science carries on her educational legacy as part of UC San Diego. 
During Space Foundation's 2021 celebration of World Space Week (October 4-10), we are proud to join with the U.S. Mint to share the story behind the latest honor celebrating Ride's life  – a new U.S. quarter to be issued in April 2022. 
As part of the American Women Quarters Program, Ride and four other notable American women will have their images featured on the reverse side of U.S. quarters. Megan Wenrich, Space Foundation's Manager of DC Operations, leads a conversation with two representatives from the U.S. Mint — April Stafford, Chief of the Office of Design Management, and Elana Hagler, Artistic Infusion Program Designer, who both worked on the quarters honoring Ride and the other celebrated women.
In 2013, Space Foundation honored Ride's life and achievements with its highest honor, the General James E. Hill Lifetime Space Achievement Award.
---
Posted in Featured