Space Foundation News
---
Statement on the Passing of P.J. O'Rourke
Written by: Space Foundation Editorial Team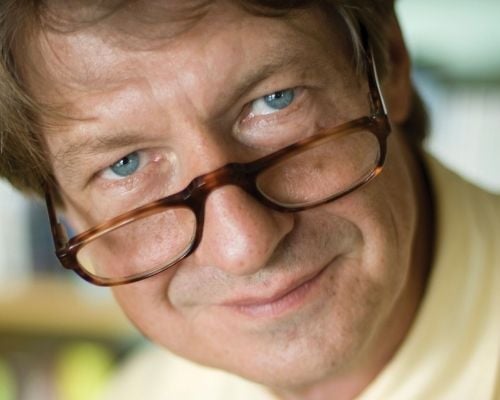 Photo provided by P.J. O'Rourke
COLORADO SPRINGS, Colo. — Feb. 16, 2022 — Dr. Kathryn Thornton, Chair of Space Foundation's Board of Directors, a nonprofit advocate organization founded in 1983 for the global space ecosystem, issued the following statement on the passing of P.J. O'Rourke, a former member of the Board and Life Director:  
"All of us at Space Foundation are saddened by the loss of our friend and former Board member, P.J. O'Rourke. For seven years, P.J. shared his wit, humor and insight in countless ways and those of us who worked alongside him enjoyed every moment. We miss those times with him but his work at Space Foundation and elsewhere are part of an enduring legacy where thoughtful reason, great conversations and shared laughter could bring people together for higher purposes.   
We extend our deepest sympathies to his wife Tina and their children."  
P.J. O'Rourke was elected to Space Foundation's Board of Directors in January 2012. He served two board terms and was elected as the Board's Secretary in November 2017. Upon completion of his second term in October 2019, he was elected to Life Director of the Board.  
About Space Foundation
Space Foundation is a nonprofit advocate organization founded in 1983, offering a gateway to information, education and collaboration for space exploration and space-to-Earth industries that define the global space ecosystem. Driven by a partnership model, Space Foundation operates three divisions that unite the entire spectrum of stakeholders — business, government, education and local communities — through support from corporate membership, sponsorship, fundraising and grants. Symposium 365 is the premier source for media and events, including Space Symposium and The Space Report; Center for Innovation and Education is a lifelong learning provider; and Global Alliance facilitates collaboration around the world. Visit Space Foundation at www.SpaceFoundation.org, and follow on LinkedIn, Facebook, Instagram, Twitter and YouTube.
###
Tags: Space Foundation, P.J. O'Rourke
Media Contact:
Rich Cooper
Vice President, Strategic Communications & Outreach
Space Foundation
(202) 596-0714
[email protected]
---
Posted in Space Foundation News