Space Foundation News
---
Space Foundation and Boeing Launch Art in the Stars to Send Student Artwork into Space
Written by: Space Foundation Editorial Team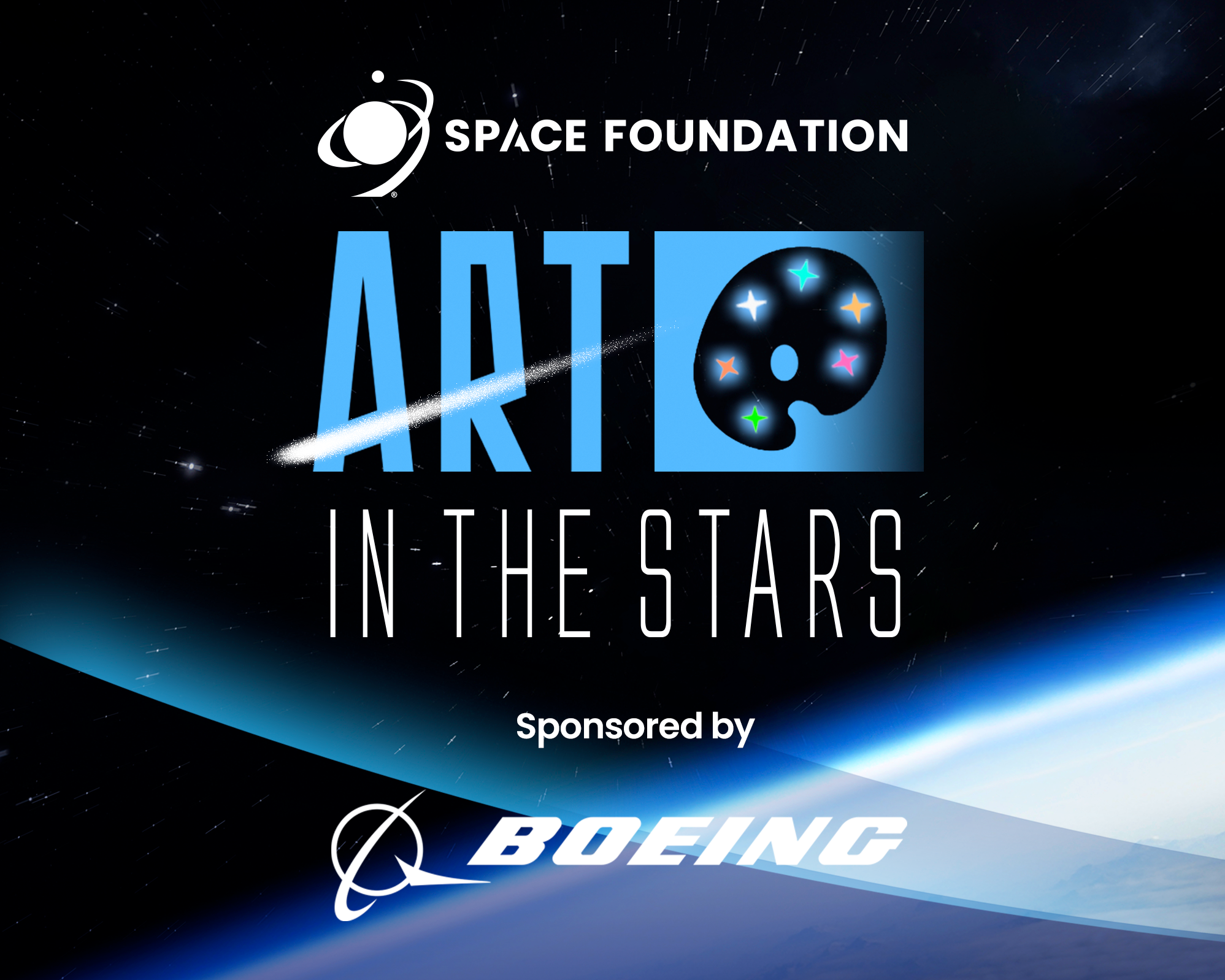 Students aged 3-18 are invited to submit original artwork inspired by the theme "Breaking Boundaries in Space"
All submissions will travel to space digitally aboard Boeing's CST-100 Starliner
Showcase begins on Oct. 4 with entries due by Dec. 16, 2022
COLORADO SPRINGS, Colo. — Oct. 4, 2022 — Boeing and Space Foundation, a nonprofit advocate organization founded in 1983 for the global space ecosystem, today announced a high-flying art showcase that will take a collection of stellar artwork by student artists and launch it into space aboard Boeing's CST-100 Starliner.
The new art showcase, "Art in the Stars," has been created via a partnership with Space Foundation and Boeing, which will launch digitized artwork submissions into space aboard the upcoming Starliner Crew Flight Test (CFT). Every student artist will be issued an official "Certificate of Flight" for each submitted piece of artwork. Young artists, ages 3-18, are encouraged to participate by creating original, space-oriented artwork based on the theme "Breaking Boundaries in Space."
Space unites and inspires globally, and space exploration requires the talents and teamwork of people from every background to come together around a common mission. Space also ignites a desire to learn and generates a passion to explore that rises above any boundaries of race, nationality, creed, or culture.
It is in this spirit that Art in the Stars participants are challenged to create and submit original artwork. Students are encouraged to consider the diverse historical figures who broke boundaries to become a "first" or blazed trails for those who came after them.
Acceptable formats for submission include drawings, paintings, mixed media, and digital media pieces. All entries must be submitted electronically through ArtShowcase.SpaceFoundation.org. Artwork will be accepted beginning Oct. 4, 2022, and submissions are due by Dec. 16, 2022. Only teachers, parents, or legal guardians over the age of 18 may register to submit artwork on behalf of the artists.
In announcing the new art showcase, Emily Normandy, space awareness senior manager at Space Foundation, said, "We are thrilled to be partnering with Boeing to use art to show how everyone can have a place in space. This is one exciting step toward helping students envision themselves as a part of the space community."
"Partnering with Space Foundation for 'Art in the Stars' entries to fly on Starliner — a commercial spacecraft that will fly people to space and safely return them to Earth — is a perfect way to inspire the next generation of diverse explorers to see themselves in the stars and imagine how far they can take us in the future," said Chris Ferguson, Boeing's flight crew representative and former NASA astronaut.
To learn more about the art showcase and to register student artwork, visit ArtShowcase.SpaceFoundation.org.
About Space Foundation
Space Foundation is a nonprofit advocate organization founded in 1983, offering a gateway to information, education and collaboration for space exploration and space-to-Earth industries that define the global space ecosystem. Driven by a partnership model, Space Foundation operates three divisions that unite the entire spectrum of stakeholders — business, government, education and local communities — through support from corporate membership, sponsorship, fundraising and grants. Symposium 365 is the premier source for media and events, including Space Symposium and The Space Report. Center for Innovation and Education is a lifelong learning platform. Global Alliance facilitates collaboration around the world. Visit Space Foundation at www.SpaceFoundation.org, and follow us on LinkedIn, Facebook, Instagram, Twitter and YouTube.
About Boeing
As a leading global aerospace company, Boeing develops, manufactures and services commercial airplanes, defense products and space systems for customers in more than 150 countries. As a top U.S. exporter, the company leverages the talents of a global supplier base to advance economic opportunity, sustainability and community impact. Boeing's diverse team is committed to innovating for the future, leading with sustainability, and cultivating a culture based on the company's core values of safety, quality and integrity. Join our team and find your purpose at boeing.com/careers.
###
All brand names and product names are trademarks or registered trademarks of their respective companies.
Tags: Space Foundation, Boeing, aerospace, Starliner, Art in the Stars, art showcase, student art, lifelong learning, STEAM education, space ecosystem, space technology
Media Contacts:
Rich Cooper
Vice President, Strategic Communications & Outreach
Space Foundation
(202) 596-0714
[email protected]
Dottie O'Rourke
TECHMarket Communications
(650) 344-1260
[email protected]
---
Posted in Space Foundation News